A Perfect World
(1993)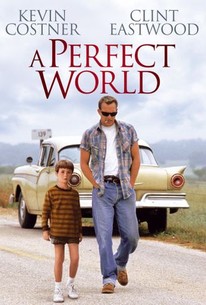 TOMATOMETER
AUDIENCE SCORE
Critic Consensus: Despite some formulaic touches, Clint Eastwood's haunting, ambiguous crime drama is smart and gritty, and features a bravura performance from Kevin Costner as a prison escapee on the run.
Movie Info
Set in Texas during the fateful month of November 1963, director Clint Eastwood stars as Red Garnett, a Texas Ranger on a manhunt for an escaped criminal (Kevin Costner) who has kidnapped a young boy (T.J. Lowther) and taken off across Texas to get away.
News & Interviews for A Perfect World
Critic Reviews for A Perfect World
Audience Reviews for A Perfect World
The surprise of this film is in its decision to view a desperado as a very relatable figure who's motivations are generally noble, ultimately twisted by a society too busy to sweat the small stuff. One of the best by Eastwood and Costner.
Kevin M. Williams
Super Reviewer
½
An escaped convict takes an 8 year old boy hostage and is pursued in the resulting manhunt by a motley assortment of lawmen headed by pragmatic good ol' boy Clint Eastwood. The fact that the central characters of this film are a desperate criminal and an 8 year old Jehovah's witness (not to mention Costner's presence) would probably provoke a groan from more cynical cinephiles expecting a saccharine drenched schmaltz-fest about "learning from each other" and "growing as a person". And they'd be right in some respects as that pretty much is what the film is all about, but thanks to Eastwood's sensitive direction it manages to sidestep cloying sentimentality and the result is an endearing road movie cum western with a streak of gentle humour. The weak link is probably Kevin Costner and if it weren't for the obvious age issues I think he and Clint would've been better served swapping roles, but he still gives a decent performance as the damaged career criminal who comes to share a common bond with his tiny captive. Perhaps the message about the penal system gets a little lost in amongst all the good natured banter, but it's still an intelligent and sensitive offbeat thriller that's well worth seeking out.
I'm very biased towards Clint Eastwood films. I believe that he is a terrific director and actor, and he's also one of my favorites actors. I thought that A Perfect World is a wonderful drama that is among Clint Eastwood's best. Not only does Eastwood direct, but he also acts in this film. The story surrounds a kidnapped boy and a convict who become friends as the convict, Butch (Kevin Costner) shows Phillip (T.J Lowther) the joys of life as Phillip is a Jeovah's Witness and has never enjoyed stuff that other kids do. This film has a good heart, and is very charming as we see Butch' and Phillip's friendship unfold. There are a few violent parts, but this film has a very good story. This is the type of film only Clint Eastwood could make. A Perfect World is a near perfect film, and this is one of Kevin Costner's best films. I absolutely enjoyed this film and I thought it great. There are a few things that could have been perfected, but theres so little mistakes in this film that one can forgive its imperfections. A wonderful story, brought to life by a great cast and a great director, A Perfect World is simply a terrific, well acted film that is another Eastwood classic. This is definitely a film that Clint Eastwood fans shouldn't pass up. A remarkable film that is sad, funny and powerful, A Perfect World is awonderful drama film that should be seen.