Perfect Strangers (Perfetti sconosciuti)
(2016)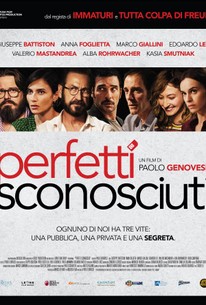 Perfect Strangers (Perfetti sconosciuti) Photos
Movie Info
In this comedy-drama from Italian director Paolo Genovese, seven close friends get together for dinner. During the course of the meal they decide to play a game that involves them all placing their cellphones on the dinner table, and to make all of their phone calls and text messages available to one another. While the game at first is a playful exercise, things get decidely more serious as untold secrets and aquaintances become public knowledge within the group. The stellar cast includes Giuseppe Battiston, Anna Foglietta, Marco Giallini, Valerio Mastandrea, Alba Rohrwacher, Edoardo Leo, and Kasia Smutniak.
Critic Reviews for Perfect Strangers (Perfetti sconosciuti)
Audience Reviews for Perfect Strangers (Perfetti sconosciuti)
½
This looks at first like a Bergman-style analysis of relationships, the characters forced claustrophobically together until the truth is out. But it belongs in a stream of Italian films that seem to apologise for questioning traditional concepts of marriage, gender, sexuality and family. Despite an efficient script and quality acting, it is forced, and has its eye to an invisible censor. It is saying 'Oh, I am so shocked', but no modern, first world viewer can be greatly surprised at what happens. The male characters consist of three heroes, their faults forgivable, plus an attractive anti-hero. You could see in these men a religious theme of the holy trinity plus the devil. But it never cuts unflinchingly deep as Bergman would have done; for example, is it really saying that God or Christ could be gay? The women are fallen, made ridiculous, or heart-broken; they end up diminished, and not powerful at all: compare Autumn Sonata, Scenes from a Marriage, or Persona; or the biblical stories of women. The screenplay dodges direct accusation by giving equal time and space to all of the characters, and placing them more or less symmetrically. It is an intellectual exercise, good to look at, with clever twists, like a competent, allegorical painting. There is little involvement for the audience; without an emotional dénouement the ending was a problem, and it resorts to a glib device. Along the way, cut-and-paste pictures of an impossibly huge moon are a hilarious pointer to the film's problems with sincerity - watch for the unmoving clouds. Perhaps this show is telling us where modern Italy is at; or where someone thinks it should be, laced with generous doses of guilt. Maybe it holds up a documentary mirror to bourgeois society more generally. Maybe it is saying to mind your morals in the age of social media. If you are not too bothered about intellectual honesty, or about being fed a subliminal religious or moral lesson nodding to conservative authority, then you can sit back through this like a good soap, and chuckle and tisk your way along at the self-inflicted tribulations of a group of well-off people, all of it presented in a lush interior, or classically handsome streets, and delivered with the inimitable Italian talent for style.
Perfect Strangers (Perfetti sconosciuti) Quotes
There are no approved quotes yet for this movie.