Perfume: The Story of a Murderer
(2006)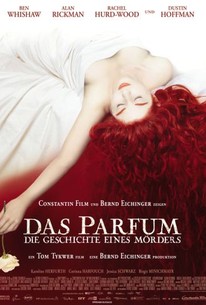 TOMATOMETER
AUDIENCE SCORE
Critic Consensus: Perfume is what you'd expect from a Tom Twyker-directed movie glamorizing a serial killer: a kinetic visual feast, with a dark antihero that's impossible to feel sympathy for.
Perfume: The Story of a Murderer Videos
Perfume: The Story of a Murderer Photos
Movie Info
"Perfume" is a terrifying story of murder and obsession set in 18th-century France. Jean-Baptiste Grenouille has a unique talent for discerning the scents and smells that swirl around him, which he uses to create the world's finest perfumes. Strangely lacking any scent of his own, he becomes obsessed with capturing the irresistible but elusive aroma of young womanhood. As Grenouille's obsession turns deadly, 12 young girls are found murdered. Panic breaks out as people rush to protect their daughters, while an unrepentant and unrelenting Grenouille still lacks the final ingredient to complete his quest.
Critic Reviews for Perfume: The Story of a Murderer
Audience Reviews for Perfume: The Story of a Murderer
Some nice production design but so loathsome that hardly makes it worth looking at.
Great costumes and good acting. But the story's a bit...odd. Not a satisfying conclusion at all.
Christian C
Super Reviewer
½
An arthouse film involving obsession, murder, and...perfume? Odd, but intriguing. The broad concept (a man with a highly developed sense of smell, one that is so intense that it is the primary way he experiences the world strives to capture the essence of love) is kinda interesting, and has the potential to be riveting, but, with how the thigns are executed here, it's a disappointment. I like artsy films, I do. But man, even with a potentially intriguing and involving concept, this is just a plodding, overlong bore. That, and it gets really absurd and hard to take seriously at times, especially the over the top ending. Yeah, there are some moments that are really creppy, atmospheric, thrilling and well done, but overall this is a lackluster thriller that doesn't deliver the goods often enough. The production values are great, the film looks spectacular, and the music is quite good, but there's not a whole lot here that's really all that stunning. The cast is good, but their performances seem off, distant, and like they're jsut going through the motions. Plus, as I keep saying, the concept is potentially itneresting, but let's think about it: a sense of smell is the main driving force here. That's not an easy thing to make work, and I think they could have done a better job with the concept. There's no shortage of talent here, but I just think that everyone went about it the wrong way a lot of times, hence why the film is the way it is. It's not a total failure, but man, this is a tough one to sit through.
Chris Weber
Super Reviewer
Perfume: The Story of a Murderer Quotes
| | |
| --- | --- |
| Antoine Richis: | Paris is not smarter than us. |
| | |
| --- | --- |
| Antoine Richis: | It's not about faith! There's a murderer out there! |
| | |
| --- | --- |
| Narrator: | He still had enough perfume left to enslave the whole world if he so chose. He could walk to Versailles and have the king kiss his feet. He could write the pope a perfumed letter and reveal himself as the new Messiah. He could do all this, and more, if he wanted to. He possessed a power stronger than the power of money, or terror, or death - the invincible power to command the love of man kind. There was only one thing the perfume could not do. It could not turn him into a person who could love and be loved like everyone else. So, to hell with it he thought. To hell with the world. With the perfume. With himself. |