Perrier's Bounty
(2010)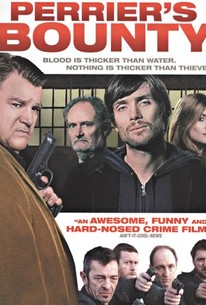 TOMATOMETER
AUDIENCE SCORE
Critic Consensus: It has interesting characters and a strong cast, but Perrier's Bounty ultimately fails to do anything original with them.
Movie Info
An ordinary guy gets himself in an extraordinary amount of trouble in this blend of comedy and action from director Ian Fitzgibbon. Michael McCrea (Cillian Murphy) is a regular guy who isn't especially good with money, which leads him to borrow some money from Perrier (Brendan Gleeson), a local loan shark and strong-arm man. Unfortunately, Michael isn't able to pay back the money on schedule, and he quickly learns that Perrier is one man you don't want angry; now there's a price on Michael's head and he needs to pay his debt quickly if he wants to live. Michael accepts a proposal from a small-time hood to do a quick breaking-and-entering job in exchange for part of the loot, but things go very wrong and somehow the neighbor girl Michael is sweet on, Brenda (Jodie Whittaker), ends up shooting someone. Now Michael is on the run from two sets of crooks, has a dead body to deal with, must find an alibi for Brenda, and has to mend fences with his crusty father (Jim Broadbent) before his dad is willing to help. Perrier's Bounty was an official selection at the 2009 Toronto International Film Festival.
News & Interviews for Perrier's Bounty
Critic Reviews for Perrier's Bounty
Audience Reviews for Perrier's Bounty
½
simple, strait narrative with few surprises, but highly entertaining. the film held a solid tension between the dramatic and the amusing. the end was a bit silly, but overall the film had character. very good watch.
½
"Perrier's Bounty" starts with Michael McCrea(Cillian Murphy) waking up with a hangover to the unappealing sight of Ivan(Michael McElhatton) and Orlando(Don Wycherley) promising to break his legs if he does not pay them the money he owes to their boss Perrier(Brendan Gleeson) in four hours. Michael does not take any money from his friend Brenda(Jodie Whittaker) because she has enough problems with her pond scum boyfriend Shamie(Padraic Delaney). Michael's father(Jim Broadbent) does not have it either. Regardless, he is dying of cancer which is the first Michael is hearing about it. Neither does The Mutt(Liam Cunningham) but he does know of a breaking and entering job that night if he wants in. Highlighted by a great cast in fine form, "Perrier's Bounty" is a daftly entertaining black comedy that raises some intriguing questions about fate. Namely, is it better to fight it to one's dying breath or maybe just give up? Along these same lines, there are two dei ex machina in the movie. The first one happens because this would be a rather short movie otherwise. There really is no reason for the other one. In any case, this is set in a Dublin without law or order where the police are little use and hardly intimidating, unlike parking enforcement officers. That just goes to show you that there are some people you should never mess with.
This movie is totally awesome to watch. A wickedly hilarious and explosively entertaining crime-thriller that's just a pure joy. It's fast-paced, terrifically original and vastly enjoyable with enough twist and action to go around. A dazzling crime flick that packs alot of heat as well as humor and strongly committed performances from it's wonderful cast. A tremendously enjoyable and very funny action-packed comic thriller that has loving every minute. The best Irish crime film since In Bruge. It's like a Guy Ritchie movie, except only smarter. The all-cast is just wonderful in their roles. Cillian Murphy is fantastic. Brendan Gleeson is excellent as always. Jim Broadbent is marvelous, he's brilliant in this role whether he's tackling comedy or the dramatic side of the character. A full-clip of fun from start to finish.
Perrier's Bounty Quotes
There are no approved quotes yet for this movie.