Persepolis
(2007)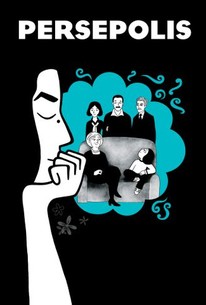 TOMATOMETER
AUDIENCE SCORE
Critic Consensus: Persepolis is an emotionally powerful, dramatically enthralling autobiographical gem, and the film's simple black-and-white images are effective and bold.
Movie Info
Marjane is precocious and outspoken young Iranian girl who was nine years old during the Islamic Revolution when the fundamentalists first take power--forcing the veil on women and imprisoning thousands. She cleverly outsmarts the "social guardians" and discovers punk, ABBA and Iron Maiden, while living with the terror of government persecution and the Iran/Iraq war. Then Marjane's journey moves on to Austria where, as a teenager, her parents send her to school in fear for her safety and, she has to combat being equated with the religious fundamentalism and extremism she fled her country to escape. Marjane eventually gains acceptance in Europe, but finds herself alone and horribly homesick, and returns to Iran to be with her family, although it means putting on the veil and living in a tyrannical society. After a difficult period of adjustment, she enters art school and marries, continuing to speak out against the hypocrisy she witnesses. At age 24, she realizes that while she is deeply Iranian, she cannot live in Iran. She then makes the heartbreaking decision to leave her homeland for France, optimistic about her future, shaped indelibly by her past.
Critic Reviews for Persepolis
Audience Reviews for Persepolis
½
Just about as expected. In fact, I was prepared for worse experience while opting for it. It had too much in it that appealed me to stay away from it. But as usual, I couldn't ignore its high rating for ever (I did it for long, though). Of course, had it been a movie for kids, I might not have dared to go for it. A critically acclaimed animated autobiographical (give or take a little) flick that turned out to be no more than average for me.
familiar stranger
Super Reviewer
½
This smart animated film tells the story of the Islamic revolution in Iran from the eyes of a open minded young girl, growing up to be a woman both inside and abroad of the country. That's surprisingly informative as a history lesson, both funny and dark and realistic at times, but always striking the right tone. While the animation always stays simplistic, the main character easily engages the audience and makes you care for her voyage and the story of her home. Only the ending comes off as a bit anticlimatic, but that doesn't take anything away from the importance and charm of the film. Very well done.
½
Intimacy with the history of Iran, the Islamic Revolution through an animated autobiography by and of Marjane Satrapi, a witness to the oppression of civil and women rights in Iran. Persepolis is visually beautiful, and socially, culturally, and politically reflective. Significant.
Jan Marc Macababayao
Super Reviewer
Persepolis Quotes
| | |
| --- | --- |
| Marjane (Child) (French Version): | Every morning she would put fresh jasmine flowers in her bra. When she was taking it off, the flowers would fall from her breasts. It was magical. How do you manage to have such round breasts at your age? |
| Marjane's Grandmother (French and English Version): | Everyday I put them for 10 minutes in bowl of icy cold water. |
| Marjane (Child) (French Version): | I'll miss you. |
| | |
| --- | --- |
| Marjane's Grandmother (French and English Version): | In life you'll meet a lot of jerks. If they hurt you, tell yourself that it's because they're stupid. That will help keep you from reacting to their cruelty. Because there is nothing worse than bitterness and vengeance... Always keep your dignity and be true to yourself. |
| | |
| --- | --- |
| Marjane's Grandmother (French and English Version): | If they hurt you, remember it's because they're stupid. |
| | |
| --- | --- |
| Marjane's Grandmother (French and English Version): | Fear is what makes us lose our conscience. |