Peter Ibbetson
(1935)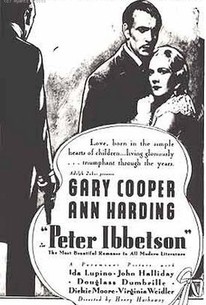 AUDIENCE SCORE
Critic Consensus: No consensus yet.
Movie Info
"I'll See You in My Dreams" could well have been the theme music of Peter Ibbetson, the second film version of George du Maurier's 1891 novel. Peter Ibbetson (Gary Cooper) is an architect who, while working on a restoration job for the British Duke of Towers (John Halliday), discovers that The Duchess of Towers (Ann Harding) is actually Mary, his childhood sweetheart. The jealous duke pulls a gun on Ibbetson, but Peter kills him. He is sent to prison for life, certain that he'll never meet his Mary again. But both lovers are reunited in one another's dreams, which connect them spiritually. The years pass, but the aging Peter and Mary remain ever youthful in their dreams. Upon their deaths, they are reunited in the afterlife. Somehow this fragile fantasy works, thanks to the steady guiding hand of director Henry Hathaway.
Critic Reviews for Peter Ibbetson
Audience Reviews for Peter Ibbetson
½
self-serious and wildly sentimental, it still manages to work, due in large part to the delicate cinematography. even coop's typically stiff performance seems appropriate in this otherworldly tale of lovers who meet in dreams. 'the strangest things are true and the truest things are strange'
Stella Dallas
Super Reviewer
½
Odd semi fantasy film has a good performance from a dashing Gary Cooper to recommend it but the pacing is off. The mood is too earthbound to make it haunting and too celestial for a standard telling. Part of the problem is that Ann Harding while a fine actress is miscast as the object of Gary's lifelong desire, a more ethereal performer was required, Merle Oberon would have been perfect. The appearance of an almost unrecognizable Ida Lupino as a bit of Cockney baggage is a treat but she's in and out of the film in under fifteen minutes.
not great - but kinda reminds me of portrait of jennie and stairway to heaven - that transcendent love defying time and space... thaaang.
Bob Stinson
Super Reviewer
Peter Ibbetson Quotes
There are no approved quotes yet for this movie.