Peter Rabbit
(2018)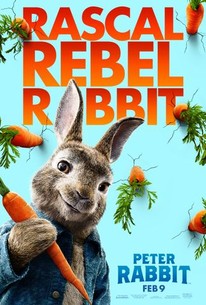 TOMATOMETER
AUDIENCE SCORE
Critic Consensus: Peter Rabbit updates Beatrix Potter's classic characters with colorfully agreeable results that should entertain younger viewers while admittedly risking the wrath of purists.
Movie Info
Peter Rabbit, the mischievous and adventurous hero who has captivated generations of readers, now takes on the starring role of his own irreverent, contemporary comedy with attitude. In the film, Peter's feud with Mr. McGregor (Domhnall Gleeson) escalates to greater heights than ever before as they rival for the affections of the warm-hearted animal lover who lives next door (Rose Byrne). James Corden voices the character of Peter with playful spirit and wild charm, with Margot Robbie, Elizabeth Debicki, and Daisy Ridley performing the voice roles of the triplets, Flopsy, Mopsy, and Cottontail.
News & Interviews for Peter Rabbit
Critic Reviews for Peter Rabbit
Audience Reviews for Peter Rabbit
Film adaptations of classic books or, rather, books that have a passionate fanbase are a tricky thing to pull off. On the one hand, if you change too much for your adaptation, these fans will be all over you for it. But, by the same token, if you change too little for your adaptation then you're also criticized for, really, not adapting anything, you just took the book and, essentially, filmed it with no heart and soul. It's the same thing with remakes, change too much you get derided, adhere strictly to what came before, you get made fun of. I think the best way to approach things is to take the basic concept of the book, and a lot of the major story beats, and just adding your own touch to it. It doesn't have to be anything major, but just add something that makes it uniquely yours and not just a mindless adaptation of the book. Reason I bring this up in reference to this movie is that, I'm certain, at least as far as the humor is concerned and the narrative, that this movie is nothing like the children's book it is based on. I don't know how I feel, because there's something very sweetly nostalgic about a movie like, say, The Peanuts Movie in that that movie, essentially, feels like the Peanuts strip (or cartoons) as seen through 2015 eyes (the year the movie was released). There was nothing ambitious about the movie or, really, that differed that much from what most of us know/remember of the Peanuts franchise and, you know what, it was a movie that I enjoyed tremendously. This approach, however, probably doesn't apply to most properties based on children's books. It doesn't apply because, in my opinion, most studios want something more modern that they can market to kids, since this opens a lot of merchandising options not available to them if they tried to appeal to just fans of, say, the original Peter Rabbit book. Though, to be fair, the original Peter Rabbit book was released over 113 years ago, so I'm certain that most of those people aren't around anymore. Seriously though, Peter Rabbit is a beloved children's book and the people that grew up on that might hate this movie because of its stylistic changes. I'm not gonna hold that against these people, of course, as they're entitled to their opinion as long as it is well-reasoned and not just the 'it's ruining my childhood nonsense'. I'm not really that fussy. As long as a film adaptation of a book I love (or a remake) is good, then that's all that matters to me. Having said that, however, I found myself pleasantly surprised by this movie. Honestly, I wasn't exactly expecting all that much. I saw it on Netflix last week and I thought to myself that I'd probably watch it someday, but I wouldn't be bothered if I never did come to watch it. Part of me was expecting it to be one of those bright, colorful but relatively joyless family movies. It's certainly very bright and colorful, but, much to my surprise, I found this to be quite an entertaining little movie. I do think the more modern comedic style, while turning off purists, added to that because I've always been a fan of British comedy and while this isn't exactly Monty Python, I still enjoyed the comedy regardless. I find, now that I think about it, what worried me most about this movie is that it would follow the same route similar CG/live-action films have taken. I'm referring to, of course, the Alvin and the Chipmunks movies (THERE'S FUCKING FOUR OF THESE IN EXISTENCE) and the Smurfs with Neil Patrick Harris. Ironically enough, Domnhall Gleeson's (who plays Thomas) father (the incredible Brendan Gleeson) was in one of these Smurfs movies. Anyway, what subconsciously worried me was that the this movie, much like Alvin and the Smurfs, would go for the lowest-common denominator in terms of its incredibly childish humor. This movie differs in that, while there's certainly a lot of slapstick, particularly when Peter and Thomas start feuding, unknowingly, over Bea's attention and, ultimately, her affections, I do feel that there's a legitimate effort to craft an entertaining movie for the entire family and I feel that this accomplishes that. A large part of that is Domnhall Gleeson who, I feel, is tremendous in this movie. Well, I mean, tremendous given what the role requires. Domhnall is, essentially, arguing, fighting and, at times, getting bested and outsmarted by a CG rabbit. Most actors, in this same situation, would just take the paycheck and phone it in, as I'm sure Jason Lee did for all FOUR of the Chipmunk movies. But, to his defense, those movies were not written to be good, those films were written to sell merchandise. That kind of takes the passion out of it, since the film you're in is being produced for cynical reasons. Regardless, Domhnall embraces the character and the absurdity of what's going on and he knocks it out of the park. It's not like it's an Oscar-winning performance, it's not even quite frankly, but Domhnall was clearly very committed to the role and I've gotta give him props for it. He's a large part of why I liked this movie. I don't think this movie works without someone like Domhnall giving it his all. As far as the story is concerned, while it's largely about Peter and Thomas' feud, I feel that there's a more a solid undercurrent here. Peter and his sisters (triplets) lost their father, who was murdered by Thomas' grand-uncle. This grand-uncle died, which is how Thomas comes into the equation since he inherited his uncle's manor. Peter, his sisters and their cousin have, really, sort of been adopted by Bea, Thomas' kind neighbor. Once Thomas comes into the equation, however, he and Bea start a romance which leads to an escalating series of pranks between the two. Naturally, of course, Peter does it for fear of losing someone who's become his family's adoptive mother. It's not amazing, but there's some sweet moments in the narrative using that element of Peter's personality. So, in a way, the feud between the two isn't without reason. Like I said, I found the movie entertaining, but there's one joke that doesn't really work. I don't know if it's the blueberry allergy scene, where Benjamin (his cousin) calls Peter out after Peter slams Thomas for having a blackberry allergy. Benjamin says that this is a legitimate condition, to which Peter agrees, that he has nothing against them (or something like that) and then he looks straight into the camera and he says that he doesn't want anyone to write letters. I don't mind breaking the fourth wall, hell, I love when Deadpool does it. But, in this movie, it's so bad and it comes out of nowhere and, quite frankly, there's no reason to break the fourth wall. If the movie had set a precedent where they constantly break the fourth wall then that'd be one thing, but this scene is the one and only instance of it happening. It sticks out like a sore thumb and it was such an obvious 'wink and a nod' to the audience that it fell completely flat. Thankfully, however, as I mentioned, it's the only example in the entire movie. The voice acting is good all around and the CG is also pretty solid. The live-action/CG mixes surprisingly well all things considered. I mean, obviously, it still looks like a computer generated rabbit fighting a real human man, but they did about as good a job as they could have. I don't know what else to say. In spite of all the controversy surrounding this film not being faithful to its source and its trailer being slammed as awful, this ended up being a good little movie. There's better family flicks out there, but this one certainly entertained me when I wasn't expecting it to. Wouldn't give it a glowing recommendation, this isn't Coco after all, but it's a solid movie all things considered.
Jesse Ortega
Super Reviewer
A decent enough adaptation of the classic books. There's a lot here for adults and children to enjoy overall.
Ian Walker
Super Reviewer
Delightful and charming. Peter Rabbit is not perfect, but certainly kept the children rocking with laughter as they watched the naughty rabbit cause mayhem in MacGregor's garden. The animation is impressive and almost seamlessly weaves into live action, and then into Beatrix Potter's classic water colours. Enjoyed the poignant backstory reflections of Peter's father without being overly melodramatic. A fun film even for the adults.
Chrisanne Chin
Super Reviewer
Peter Rabbit Quotes
There are no approved quotes yet for this movie.