Pete's Dragon
(1977)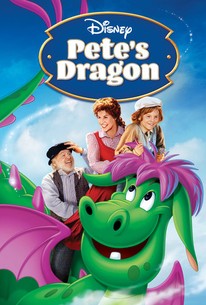 Movie Info
Based on a story by Hollywood old-timers Seton I. Miller and S. S. Field, Pete's Dragon divides its time between its flesh-and-blood characters and an animated green dragon. Pete (Sean Marshall), a lonely orphan boy in turn-of-the-century Maine, runs away from his abusive foster family. He stumbles upon a lovable dragon named Elliot, and the two become inseparable companions. Elliot is visible only to Pete, leading the townsfolk to assume that the boy is a trifle tetched. Pete finally finds happiness with his "new" family, lighthouse-keeper Lampie (Mickey Rooney) and his daughter Nora (Helen Reddy, who sings and sings). British comic actor Jim Dale co-stars as the wacky dentist Dr. Terminus. ~ Hal Erickson, Rovi
News & Interviews for Pete's Dragon
Critic Reviews for Pete's Dragon
Audience Reviews for Pete's Dragon
½
Sure, the definition of a dated film ranges from comical, over-the-top, to just downright silly, but 1977s Pete's Dragon is on a completely different level of dated. While I did not grow up watching this film, I was able to put myself in the mindset of a child from the 1970s to try and get the full experience. While I am now able to see through the dated effects, laugh at the comical dialogue, bust a gut at how cheesy the musical numbers are, and chuckle at every scene involving over-acting, there is a certain charm this film has, unlike many dated films of its kind. Here is why I believe the 1977 original Pete's Dragon to both simultaneously be dated and charming at the same time. While it is without question that the effects of the Elliott (the dragon) will never feel the same again, due to the effects of today, if you are able to look past that aspect and view this film from the time period it was made, you may just find that aspect charming. As the film begins in the woods with the relationship of Pete and his dragon Elliott, it is clear from the start that many of the scenes to later occur throughout this film, will clearly be for children. With weird facial expressions between Pete and the cartoon dragon, 1977s Pete's Dragon becomes a cartoon of itself. That being said, their relationship is believable when you suspend your disbelief, which is very easy for you children to accomplish. For that reason, their relationship is the biggest positive of the film, because kids are sure to love it. In a film that is solely directed toward children, there needs to be a few aspects that adults can enjoy, or the film is not an accessible one. To me, whether a film is as auteur as you can get or not, there needs to be at least one relatable aspect or believability. Mickey Rooney was easily the highlight of the film for me, proving that you can both be shocked and terrified about seeing a dragon, while also playing an extremely over-the-top drunk for the adults to enjoy. He is easily the best character in the film, being the father-figure to Pete, being ultimately scared of his dragon, and also being the goofy drunk that he is. He, along with the rest of the townspeople felt very well-utilized, making for a believable story. The family aspect of the film is what makes it soar. Due to the fact that this film is extremely dated, this is where the positives end in my opinion. While I was able to find quite a few positives with this film, and ultimately enjoyed the film more than I disliked it, Pete's Dragon is not without its insane amount of flaws. With the amount of terror surrounding this town, they do not seem to do much once they believe it is a real dragon. Aside from a few henchmen who are out to buy this dragon from Pete, the film is a very one-note mess. When these villains finally come into play, the magical aspect derailed for me, feeling like just another snatch-and-grab story, involving a boy/girl and their pet. It has been done to death, so a film like this needs a certain amount of heart to win me over. While it does shove some of that down your throat by the end of the film, everyone seems like they are in a cartoon, which I believe this film was trying to be the opposite of. In the end, this film is tonally a complete mess. Sure, you can dance and sing along to all of the cheesy song, which are all well-intentioned, but ultimately, this film is all cuteness with no brains. This film felt more like stunt to try and create something unique, but was a jarring tonal mess. While I do admire the effort, the relationship between Pete and his dragon, as well as the family aspect of the film, the rest is too jarring to warrant a recommendation nowadays. This film is about to receive its remake, and among all the remakes currently in the works, I believe this one may just deserve it the most. Pete's Dragon is a fine film if you are able to put yourself in the mindset of a kid from the 1970s, but most others will be laughing at how dated it has become.
As a Disney animation enthusiast, not having seen this live-action/animation mix until now was my biggest sin (this and actually having seen a few of their direct-to-video sequelized offenders). Elliot the dragon is quite an endearing creation, but when he's not on the screen (and that happens too often), the whole film falls flat with no "real" star big enough to carry the thing. Coreographer Onna White tries to infuse some of the energy that made "Oliver!" so memorable, but the mundane songs she has to work with (the sole exception being the poignant "Candle on the water") make matters hard. It is technically accomplished, but it is another reminder of the sad time when Disney stopped making films for families and started making films for children. At least it gave us one of the coolest floats at Disney's Electrical Parade as one of its sole legacies.
Matheus Carvalho
Super Reviewer
Good heartwarming musical adventure filled with thrilling plot twists, this film is a wonderful blend of live-action and Disney animation. This is a sort of a children's version of Harvey and another attempt for repeat the Mary Poppins magic. There are a LOT of songs, even for a Disney musical. Settings look wonderful. I wonder if Passamaquoddy exists for real. Nevertheless, Passamaquoddy is one heck of a name. Jim Dale as the unscrupulous Dr Terminus, and Red Buttons as his dim side-kick, are genuinely funny villains. The blending together of animated Elliot and the living, breathing actors is very good - especially for 1977 - though in a shipwreck sequence near the end the special effects are utterly dreadful.
Dean McKenna
Super Reviewer
Pete's Dragon Quotes
There are no approved quotes yet for this movie.