Petulia
(1968)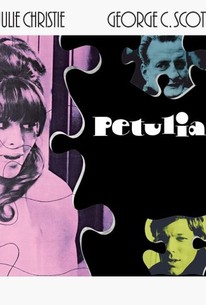 Movie Info
Petulia is Richard Lester's ode to the Swinging Sixties: a time of psychedelic instability when neither those who were square, nor those who were hip, really had it right. George C. Scott is Archie Bollen, a divorced San Francisco doctor in the midst of "discovering himself." Julie Christie is Petulia Danner, a peculiar young beauty recently married into an established family. Archie's sterile apartment and detached, bemused manner exemplify his inability to emote. Petulia's forward nature and desperate tenderness betray her fear of her sullen, abusive, pretty-boy husband (Richard Chamberlain). The physician and the newlywed embark on a schizophrenic love affair amid Pepsi references, automated motels, roller derbies, and a cameo by Big Brother and the Holding Company -- but they never achieve the daring to truly change their lives.
Critic Reviews for Petulia
Audience Reviews for Petulia
I don't remember this movie well, but I can tell you that the summary on here is totally wrong. Look it up on imdb, that's the real summary. Anyway, this is another one of those love and divorce and affair related movies. Pretty average, from what I remember.
½
Sometimes you really don't know what to say about a movie other than "that was one of the goofiest exercises in cinema I have seen in a long time." The main story is constantly intercut with short clips of future, past, or random events, incongruous moments and locales pop up just to make you scratch your head, all the while involving you in a melodramatic-romantic-comedic-mystery! Reminiscent of Bunuel infused with a swinging '60s sensibility, would not be out of place as an aperitif during a David Lynch film festival either. Throw in some fantastic masterful camerawork by Nicolas Roeg and you've got an experience you won't soon forget, or sort out.
Doctor Strangeblog
Super Reviewer
½
VERY 60's! Episodic and stream of conciousness. The clothes are great and Julie is luminous.
Petulia Quotes
There are no approved quotes yet for this movie.