Phantasm: OblIVion
(1998)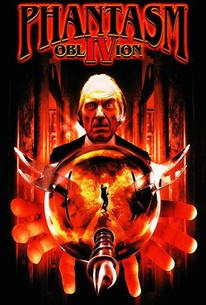 Phantasm: OblIVion Photos
Movie Info
In hopes of finally getting his chance to rule the world, the wicked Tall Man goes in search of a successor.
News & Interviews for Phantasm: OblIVion
Critic Reviews for Phantasm: OblIVion
Audience Reviews for Phantasm: OblIVion
½
Over the course of three previous films, director Don Coscarelli created one of the most entertaining, and amusing horror series in the genre. Each movie was well made, with enough care and determination to make each entry something to appeal to the diehard fans of the original. I loved the 1979 film, and I think it's one of the best horror flicks that have graced the genre. Where does Phantasm IV: Oblivion fit as far as other entries are concerned? I don't know where Don Coscarelli gets his ideas, but man are these movies fun to watch. Oblivion is very different than previous works, and is all over the map, but that is not a bad thing, at least not for this series where logic is absent. There is two different stories going on here, and it definitely works well enough to make this fourth film an entertaining ride from start to finish. Mike tries to flee The Tall Man and at the same time tries to find out where he's really from. Reggie tries to find Mike before Tall Man can achieve his goals. The characters as usual make for this movie to be a worthwhile viewing on a Friday night, and it has enough good moments to keep you interested. Phantasm IV has a very good and cool concept going for it and the idea of Mike discovering The Tall Man's origins is awesome. Don Coscarelli direction keeps the ball rolling and this time around he gives us something new, refreshing and off the wall. Phantasm is a wonderfully crafted horror franchise and each entry brought something special. But the core of each films entertainment value is the familiar characters that we horror fans have come to love mixed together with great plots and good effects and of course the famous Steel Ball to create a memorable and must see horror series. One can only guess where the series will go from here. If this is the final chapter to The Tall Man's evil doings, the series ends on a high note.
The first two films in Don Coscarelli's excellent Phantasm series were prime examples of how imagination and dedication can transcend budget and still ensure that a film project is successful in spite of being made on a shoestring. The third part of the series was a big disappointment in relation to the other two, however, and the same can be said of this third sequel. The film isn't any worse than the third part, which was something of a surprise; it's just more of the same quality. I was worried before seeing this film as I had read the plot outline and it became apparent that Coscarelli has seen fit to do what most filmmakers do when it comes to a third sequel, and just go and do some back story building; which often turns out to be rather dull, and doesn't bridge any of the gaps anyway. But yes, Phantasm 4: Oblivion is one of those films that attempt to fill some holes from the first films, and here we are treated to finding out how 'the tall man' became 'the tall man'. Actually, it's not THAT bad. While the film lacks the brilliant invention of the first two, the back story that Coscarelli has created is intriguing and while he could have delved a bit deeper into it, if you don't go in expecting too much; Phantasm 4 will not disappoint fans of the series. Poor man's cult hero Reggie Bannister returns along with his usual arsenal of cheesy one-liners and womanising 'skills', and although it can become a bit tiresome after a while, it's always entertaining and seeing this completely non-hero guy battling legions of the undead has a subtle and absurd twinge of humour to it, which is nice. Unfortunately, the original Mike, A. Michael Baldwin returns once again to his character, and this is a shame as his replacement in the second instalment, James LeGros, did a much better job in the role. All the usual Phantasm staples are present in this film, from The Tall Man himself to the creepy little dwarfs, all the way to the very cool shiny metal balls that fly around and stick in people's heads. Shame about the atmosphere, but this is still a nice film.
Cassandra Maples
Super Reviewer
½
The Phantasm series comes full circle, literally, as they cleverly intercut Phantasm IV's new scenes with unused footage from the first film. The end meets the beginning, as the Tall Man's origins and future takeover are glimpsed, while the present-day battle between Mike and the Tall Man comes to an explosive conclusion. All of this sounds more exciting that it really is; which is very small and low budget like Phantasm III. I think what was supposed to be The Tall Man's Red Planet was instead changed to Death Valley Desert. But the story is good, with a big time-loop built into the plot. I'm afraid the ending is open for interpretation. I liked it a lot, but was somewhat let down initially that there was no epic showdown between Mike and the Tall Man. Favorite Scene: When Mike remembers the last perfect day before the Tall Man arrived.
Lafe Fredbjornson
Super Reviewer
Phantasm: OblIVion Quotes
There are no approved quotes yet for this movie.