Phantom
(1922)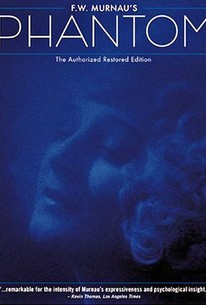 Movie Info
Alfred Abel plays a store clerk who is nearly driven to insanity when he sees an apparition of a girl driving a team of white horses. He is sentenced to 20 years in jail when he is convicted of stealing to raise money for a prostitute who looks life the ghost girl. Lil Dagover, Aud Egede Nissen, and Lya de Putti star in this feature directed by legendary filmmaker F.W. Murnau.
Critic Reviews for Phantom
Audience Reviews for Phantom
I wasn't impressed, interested, or put off by this film... in fact I didn't feel anything but boredom towards it. The plot sounds so promising, but the picture doesn't deliver. Even though my DVD was of poor quality, I couldn't get into this movie at all. I expected more from a film called Phantom.
Frankly, this film stinks. It earns two stars for F.W. Murnau's direction, but the melodramatic story is absolutely awful. The lead character (Alfred Abel, who otherwise did some fine work with Fritz Lang) is a twitching idiot who throws away his life after falling in love with a passing stranger whom he never encounters again, and the film bets all its chips on us sympathizing with him rather than believing he's a ridiculous fool. Then he goes even further, bankrupting himself by throwing gifts at a shoddy lookalike woman who does even less to deserve his affection. And heaven knows why the title suggests a horror movie -- the only horror is the script. To add insult to injury, the film tacks on a cheap, happy ending which is totally unearned. Skip this one.
Eric Broome
Super Reviewer
½
Not what I expected from F.W Murnau. It didn't have the beauty of SUNRISE or the mystery of NOSFERATU. And the title is a trifle misleading, in that I was expecting a ghost story of some sort. Instead, the title refers to obsessive "phantoms" of desires and dreams that haunt one's thoughts. This film resembles somewhat THE BLUE ANGEL in that a man's chance meeting with a mystery woman and his subsequent obsession of same leads to his downfall. Performances were a bit over-dramatic, but that is to be expected for 1922. And I have a hard time finding a lot of faults with silent German cinema. All in all, not a masterpiece but good enough to hold my attention for 2+ hours.
Phantom Quotes
There are no approved quotes yet for this movie.