Le Fantôme de la Liberté (The Phantom of Liberty) (The Specter of Freedom)
(1974)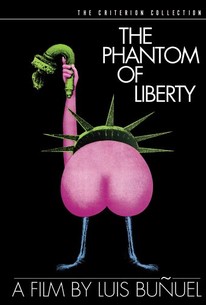 Le Fantôme de la Liberté (The Phantom of Liberty) (The Specter of Freedom) Photos
Movie Info
The Phantom of Liberty is the Luis Buñuel film in which eating is presented as a private function, while going to the toilet is a social event. It is also the film wherein a peddler of "filthy French postcards" deals only in harmless scenic pictures. It is also the film in which an indiscriminate sniper is lauded as a hero. With all this going on, we should not be surprised that a little girl, who remains in full view of the audience throughout, is regarded as a missing child. Imagine the fun 20th Century-Fox had back in 1974 when trying to come up with an advertising "handle" for the doggedly indescribable Phantom of Liberty. They certainly could not exploit the aforementioned toilet scene, nor the sequence in which a group of monks use their religious medallions as poker chips.
Critic Reviews for Le Fantôme de la Liberté (The Phantom of Liberty) (The Specter of Freedom)
Audience Reviews for Le Fantôme de la Liberté (The Phantom of Liberty) (The Specter of Freedom)
½
"The Phantom of Liberty" (the penultimate work of director Luis Bunuel's amazing career) is a tricky film to get a handle on, because it's structured like a "Monty Python's Flying Circus" episode. Nothing but quirky vignettes and transitions, with no sense of overall narrative shape. A DVD interview with screenwriter Jean-Claude Carriere reveals the perverse concept was to follow a story that is abandoned just when it turns most interesting, and then switch to a less interesting story. Wow. Notable sequences span a missing child who isn't really missing, a visit with a sadomasochistic couple, a surreal night of insomnia and the strangest dinner-table scene you'll ever see. Other pieces will fade from memory as soon as the film ends. The cast is stuffed with European actors whose faces are more familiar than their names, including Monica Vitti, Michel Piccoli, Jean Rochefort, Michael Lonsdale and Adolfo Celi.
Eric Broome
Super Reviewer
½
There is a LOT going on in this film! Bunuel takes "modern" society to task in an a very ammusing, slightly dark but always insightful manner. I found it very interesting and had a few good chuckles along the way. Not my favorite Bunuel film...but well worth a watch.
Buñuel's dark sense of humour can make us not only witnesses but supporters of this derision to all institutions that rule society. A concatenation of segments that adress tragedies, misbehavings and formalisms with the same farcical tone. Possibly inspired by 'The Saragossa manuscript' one of Buñuel's personal favourite films.
Pierluigi Puccini
Super Reviewer
Le Fantôme de la Liberté (The Phantom of Liberty) (The Specter of Freedom) Quotes
There are no approved quotes yet for this movie.