Phantom of the Opera
(1943)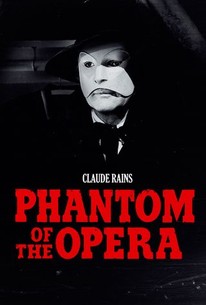 Phantom of the Opera Photos
Movie Info
Early color version of the classic story, starring Claude Reins as the obsessed, tragic Phantom.
Critic Reviews for Phantom of the Opera
Audience Reviews for Phantom of the Opera
½
although i love claude rains as an actor, his casting is the only thing in this film i slightly question, and even still, he did a great job with the role within his limitations with this character. aside from that, the film was really quite good. the music spaced out well and the script solid, the end really left me gripped. a great film.
I liked Claude Rains, but I didn't care too much for the movie. I'm sure there's a better film of the Phantom of the Opera.
½
Universal's color production of Phantom of the Opera is a wonderful spectacle to behold. Rains makes for a brilliant pre-Phantom, but only his shadow is present for the remainder. His slip into madness is also quite sudden. It would have been nice for the main plot to take place 10 years after the scarring. It's typical Hollywood cinema of the 40's, catering to the widest market. It helps that each of Christine's suiters is given enough time to develop, and none of them are unlikable. We even get a hilariously misjudged comedic scene where two men keep saying the exact same thing AND get stuck in a doorway. The musical productions are also very detailed, with the sets being impressive in both scale and design.
Luke Baldock
Super Reviewer
Phantom of the Opera Quotes
| | |
| --- | --- |
| Enrique Claudin: | [Claudin is talking to Christine as they descend into the catacombs beneath the Opera] you don't understand we can't go back up there ever, it was i who made the chandelier fall, i for you Christine |
| Enrique Claudin: | You don't understand we can't go back up there ever, it was I who made the chandelier fall. I for you, Christine. |
| | |
| --- | --- |
| Enrique Claudin: | Forgive me, but I have been a part of the Opera for so long. Everybody, everything connected with it, I feel it is so much a part of my life. [Christine pauses, then smiles] |
| Enrique Claudin: | Forgive me, but I have been a part of the Opera for so long. Everybody, everything connected with it, I feel it is so much a part of my life. |
| | |
| --- | --- |
| Enrique Claudin: | [Claudin is talking to Christine as they descend into the catacombs beneath the Opera] See? Didn't I tell you it was beautiful? You didn't know we had a lake all to ourselves, did you? [Christine covers her face and sobs] They've poisoned your mind against me. That's why you're afraid. Look at your lake, Christine. You'll love it here when you get used to the dark. And you'll love the dark, too. It's friendly and peaceful. It brings rest and relief from pain. It's right under the Opera. The music comes down and the darkness distills it, cleanses it of the suffering that made it. Then it's all beauty. And life here is like a resurrection. |
| Enrique Claudin: | See? Didn't I tell you it was beautiful? You didn't know we had a lake all to ourselves, did you? They've poisoned your mind against me. That's why you're afraid. Look at your lake, Christine. You'll love it here when you get used to the dark. And you'll love the dark, too. It's friendly and peaceful. It brings rest and relief from pain. It's right under the Opera. The music comes down and the darkness distills it, cleanses it of the suffering that made it. Then it's all beauty and life here is like a resurrection. |