Phantom Thread
(2018)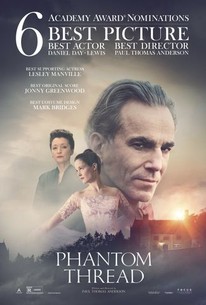 TOMATOMETER
AUDIENCE SCORE
Critic Consensus: Phantom Thread's finely woven narrative is filled out nicely by humor, intoxicating romantic tension, and yet another impressively committed performance from Daniel Day-Lewis.
Movie Info
Set in the glamour of 1950's post-war London, renowned dressmaker Reynolds Woodcock (Daniel Day-Lewis) and his sister Cyril (Lesley Manville) are at the center of British fashion, dressing royalty, movie stars, heiresses, socialites, debutants and dames with the distinct style of The House of Woodcock. Women come and go through Woodcock's life, providing the confirmed bachelor with inspiration and companionship, until he comes across a young, strong-willed woman, Alma (Vicky Krieps), who soon becomes a fixture in his life as his muse and lover. Once controlled and planned, he finds his carefully tailored life disrupted by love. With his latest film, Paul Thomas Anderson paints an illuminating portrait both of an artist on a creative journey, and the women who keep his world running. Phantom Thread is Paul Thomas Anderson's eighth movie, and his second collaboration with Daniel Day-Lewis.
Critic Reviews for Phantom Thread
Audience Reviews for Phantom Thread
DDL does an excellent job as usual bringing his character to life. Movie as a whole was very slow and uninteresting
Spencer Macklin
Super Reviewer
It's been a while since the last time I contemplated a film in a state of dream-like reverie, but Paul Thomas Anderson's most recent take on offbeat romance gave me that incredible feeling again. Think of how satisfied must a cinephile feel when fed with a sort of Powell/Pressburger production, seasoned with vintage Rebecca era Hitchcock, and for dessert some fantasy elements brought from Charles Perrault or M.R. James -the culinary comparisons are non-gratuitous, by any means-. A magnificent score by Jonny Greenwood is also responsible for bestowing a haunting aura and embellish the darkest turns of the story for almost all its duration. As his film testament, Daniel Day-Lewis could not have found a most suited part than Reynolds Woodcock, a brilliant artist who is also morbidly compulsive, overbearing, and seemingly unreachable in his creative state. Commitment, power struggles and artistry explored with humour, razor sharp wit and the beauty of a bygone era.
Pierluigi Puccini
Super Reviewer
Let me just start by stating that I'm not the biggest fan of director Paul Thomas Anderson. I'm well aware that I have a very unpopular opinion among film fans about that. From his earlier films like Boogie Nights or Punch-Drunk Love to newer films like Inherent Vice or The Master, I've appreciated his films for what they are and even though they were at least solid watches. That being said, upon my viewing of his latest outing in Phantom Thread, I found myself incredibly baffled by how much I was loving it. Yes, of Anderson's entire filmography, I think Phantom Thread may just be my absolute favorite that he's made. From its calm direction and slow-paced emotional core, here are all the reasons I believe that every mature film viewer needs to witness this movie. Following Reynolds Woodcock, an older dressmaker who is as arrogant and simple-minded as they come, he happens to come across Alma, the perfect woman in every way for him. Being the perfect body type to model his dresses while also finding her very attractive, the two of them for a very strange romance that ultimately leads to deception and heartache for the both of them. The premise itself seems like something that a much older audience will appreciate, but I found myself sucked into this story and honestly on the edge of my seat at times. Yes, there are quite a few tension-filled moments throughout this movie and the surprises in it are some of the most memorable that I've witnessed in quite some time. Where I feared this film would lose my attention, like many of Anderson's previous works did, was in its pacing. I find his sense of storytelling to be very dull and even though his filmmaking techniques are extremely commendable, to say the least, they just haven't stuck with me over the years. This time around, the film relies on your connection of these two characters to hold your interest, which was precisely the reason I fell in love with it. Watching a man make dresses and fall in love with someone at least 30 years younger than him doesn't seem like a masterpiece on the surface, but I can assure you that this movie builds up to a very unconventional love that will catch most viewers off guard. Not only does Anderson do a great job at directing this film, but his screenplay is also worth mentioning, due to the incredible detail that seems to be written throughout it. Whether or not a character is talking, there's always something going on. Whether it's through a look that a character shares with another or whether someone simply touches a piece of clothing, it almost seemed as though everything about this movie was telling a story, even when nothing was happening, and that's a very rare thing to accomplish. Although these are two very different films, I got vibes that dated back to my first viewing of the film Drive. In the way that it used a little less dialogue and more visual storytelling. Don't get me wrong, there's still plenty of dialogue here, but this is a film that doesn't need dialogue to get its point across. In the end, Phantom Thread is a movie that deserves every bit of praise and awards buzz that it's receiving, which is a lot coming from me. The slow pace didn't bother me, because the characters were so interesting and the third act almost becomes a quite romantic thriller, due to the situations that begin to present themselves. This film develops very quickly from one thing to another and it kept me wanting more. For these reasons and more, I can't bring myself to complain about anything here. If you're a hardcore fan of cinema like I am, I can see you loving this film.
Phantom Thread Quotes
There are no approved quotes yet for this movie.