Phantoms
(1998)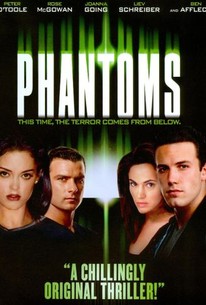 Movie Info
This adaptation of a Dean Koontz novel takes place in the small mountain ski resort town of Snowfield where 150 dead are discovered. Another 350 are missing. A doctor (Joanna Going) finds that Evil Incarnate is behind the tragedy.
News & Interviews for Phantoms
Critic Reviews for Phantoms
Audience Reviews for Phantoms
"Wow! And not like wow, this was awesome. Wow like, OMG WTF did I just watch? I figured it being based on a Dean Koontz book and having Liev Schreiber, Ben Affleck, and Peter O'Toole in the movie, that this might be good. Jeez what a horrible mistake that was. The script, directing, acting, it was all bad. This is a mess of a film. I couldn't wait for it to be over. The story should have stayed on the pages of the book. The only thing entertaining was the bad acting. Liev did crack me up with his crazy ass laugh and his creepy tendacies. But besides that, I could have done without seeing this entire film."
♥˩ƳИИ ƜѲѲƉƧ♥
Super Reviewer
Sheriff Bryce Hammond: All right, enough. Sheriff Bryce Hammond: Enough! It's not a god, it's not a devil. It's just a fucking animal, and any living thing can be killed. Timothy Flyte: But this thing is what wiped out the dinosaurs! Which were pretty tough fucking customers! Phantoms is now one of the worst movies I have ever seen. Everything about it is a complete waste of time. The acting is complete shit. The dialogue is complete shit. The story is complete shit. The sound is complete shit. I could go on, but I think you get the point. For me the sound was the most annoying thing, besides Ben Afflecks horrible performance. During dialogue I would have to turn the volume up because the characters are whispering and I can't hear their worthless dialogue. Then, Bam, 5 minutes of screeching and banging that about blows my speakers. So I turn it down, then I have to turn it back up. That was the whole movie experience for me. The two actresses, while clearly easy on the eyes, are absolutely horrible and almost rival Affleck performance. I feel bad for O'Toole because he's such a great actor. I just can't see what made him want to be in this.
Melvin White
Super Reviewer
Phantoms based on the novel by dean Koontz is a surprisingly scary ride, and is a non stop thrills, jolts and good scares. Phantoms is an awesome horror film, and it is very tense and thrilling. Before watching this film I had low expectations\, but luckily my expectations were exceeded. Phantoms is a roller coaster ride of horror that doesn't rely on Teen Horror cliches to create Horror. Dean Koontz does a terrific job adapting his story to the big screen. Director Joe Chappelle directs Koontz's story. Phantoms starts off with a taste of old fashioned horror films, and ultimately sets the tone for the entire film. The second half is just as impressive as the first half. Phantoms is a terrific example of to make a good monster horror film. Phantoms features a creature with many tentacles who fed on the population of a small town. Phantoms is guaranteed to give you a few good scares, and the film is much better than what people have said about it. Ben Affleck does give a decent enough performance, compared to his other dreadful performances in Armageddon, Pearl Harbor and Daredevil. He isn't bad here, but he's not great either. Peter O'toole gives the best performance here and manages to give this film better credibility. Because after all, O'toole is a legendary actor. Both Koontz and director Joe Chappelle manage to create a terrific horror film and the end result is very impressive. There's plenty of dismembered bodies and tense and suspenseful horror moments to keep you tense throughout the film. Phantoms is an underrated film, and you should at lease give it a look and decide for yourself.
Phantoms Quotes
| | |
| --- | --- |
| General Copperfield: | Just what is this thing? |
| Timothy Flyte: | Chaos, chaos in the flesh. |
| | |
| --- | --- |
| Jenny Pailey: | It almost got Lisa. |
| Lisa Pailey: | No, it wanted Deputy Wargle first, it wants men like him most of all. |
| Jenny Pailey: | What do you mean it wants men like him? |
| Lisa Pailey: | Well, its the devil don't you think, come up from hell tonight? I think he wants to dance with us. |
| | |
| --- | --- |
| Deputy Stu Wargle: | Hey, you girls slipped me a micky! |
| | |
| --- | --- |
| Timothy Flyte: | Show yourself. Gods have nothing to fear. Or, do they? |