Phat Girlz
(2006)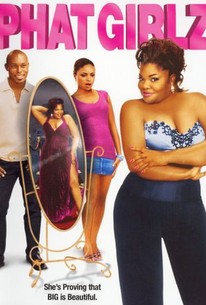 Movie Info
A woman makes it her business to convince the world that bigger is better in this comedy. Jazmin Biltmore (Mo'Nique) is a plus-size woman trying to find a place in the skin-and-bones world of high fashion. Jazmin has her heart set on launching her own line of clothes for large ladies, but she hasn't had much luck convincing the moneymen that there's a market for her work. Jazmin is also looking for love, but she finds that few men are willing to look past her dress size and see the woman within. Jazmin is becoming despondent when she gets some good news -- she's won an all-expenses paid trip for two to an exclusive resort in Palm Springs, and she and her best friend, Stacey (Kendra C. Johnson), another zaftig woman, head out to enjoy some fun and sun. While on vacation, Jazmin meets Tunde (Jimmy Jean-Louis), a handsome and successful doctor from Nigeria, and she discovers to her surprise that Tunde is strongly attracted to her. Tunde tells Jazmin than in his country, large women are considered beautiful, and his friend Akibo (Godfrey) is similarly drawn to Stacey. Will Jazmin's new luck in love follow into other parts of her life or is Tunde's interest in her just a passing fancy? Phat Girlz was the first feature film from writer and director Nnegest Likké.
Critic Reviews for Phat Girlz
Audience Reviews for Phat Girlz
So, this movie wants to make fun of fat girls (oh, snap, her clothes are too small! she only wants donuts!) but at the same time make you skinny bitch feel bad for laughing. I still can't believe I never change the channel whenever it's on 4379 times a week.
Quinto Wallight
Super Reviewer
½
Better than I expected, (which was to have to turn it off twenty minutes into the film!). I'm not sure the message was that great, as let's face it, to be that overweight is actually a health issue, (and I am not having a go - I know some people really do struggle with their weight or have a genuine problem with it), but look, for what it was, which was a comedy aimed at bigger women as an ego boost, it was surprisingly watchable and even had a few laughs to it, even if it was verging on size-ist at times (Which was pretty bizarre to be "thin bashed"LOL). The whole thing is totally far fetched, but it has a niceness to it so I was able to look past that.
Nicki Marie
Super Reviewer
Phat Girlz Quotes
| | |
| --- | --- |
| Banker: | If finding a date is a problem, may I suggest Jenny Craig? |
| | |
| --- | --- |
| Tunde: | My wife? The last time I checked I'm still a single man. |
| Jazmin Biltmore: | The woman who answered the door ain't your wife? |
| Tunde: | No she's not. She's one of the housekeepers. |
| Jazmin Biltmore: | and her baby? |
| Jazmin Biltmore: | And her baby? |
| Tunde: | I delivered the baby but have nothing to do with conception. |