Phenomenon
(1996)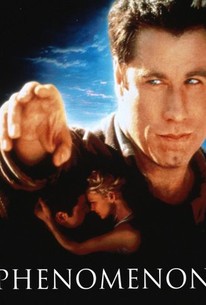 Movie Info
A small-town auto mechanic of average intelligence suffers a mysterious mishap and suddenly becomes the world's smartest man in this touching, some say, Capra-esque drama. George Malley is the mechanic. He is well liked in his community but no one would ever mistake him for a genius. For a long time he has secretly loved Lace, an attractive single mother who pays him little heed. George's extraordinary change happens when he steps outside during his 37 birthday party and gets zapped by a brilliant flash of heavenly light that may or may not have been caused by a UFO. He returns to the festivities a brilliant, curious fellow who is able to use nearly all of his brain's potential rather than the measly 10% most of us use. Not only can he learn and retain knowledge at an unbelievable rate, he also has psycho-kinetic powers to move things with his will. He can even predict earthquakes. Much of the movie centers on the ways in which people react to the new and improved George. Most people are unable to deal with his intelligence and avoid him. The FBI comes to suspiciously investigate him. Fortunately, George's best friend Nate remains loyal as does the town doctor. Lace also comes round and begins falling in love with him. But then the doctor discovers something about George's condition and the story takes a tragic turn.
Critic Reviews for Phenomenon
Audience Reviews for Phenomenon
John Travolta, Forest Whitaker, Kyra Sedgwick and Robert Duvall head up one of the more heartwarming of this genre (just short of Flowers for Algeron) wherein a regular guy suddenly finds himself invested with superior mental prowess. It gets slow right before the end but damned if I didn't forgive it for doing so due to the excellent handling of the material by all involved.
Kevin M. Williams
Super Reviewer
½
An average American man working as a mechanic in a California town finds himself granted supernatural abilities on his 37th birthday in this whimsical dramedy starring John Travolta. There was speculation that this film had ties to Scientology, but I really wouldn't know, nor do I care to get involved in that discussion. I just remember my dad saying (sometime back in the 90s), that this was the only Travolta film (at that time at least), that he thought was any good. I didn't, and still don't agree with that, but it is a pretty good film nonetheless. I liked that this regular guy gets powers just out of happenstance, and how the film concerns him and everyone else around him, having to deal with the positive and negative consequences of this situation. It's been forever since I've seen this, so my memory of it is hazy, but I seem to recall that, while it does have fun with him messing around with his powers, it actually takes the situation seriously too, and mostly does so without being too heavy handed. The performances are good, the concept quite nice, and in the end it makes you all warm and fuzzy, and all that mushy stuff, so if that sounds good to you, then give it a shot.
Chris Weber
Super Reviewer
There are a few movies out there where something out-of-the-ordinary causes the hero to become a genius. It always seems to be a temporary phenomenon. This movie is no exception to the rule. I did not mind it - somehow it is a satisfying movie - perhaps the wish that one can solve all the world's ills.
Phenomenon Quotes
| | |
| --- | --- |
| George Malley: | I think I'm what everyone can be. I'm the possibility. The human spirit, that's the challenge, the voyage, the expedition. |
| George Malley: | I'm what everyone can be. Anyone can get here. I'm the possibility. What I'm talking about is the human spirit. That's the challenge. That's the voyage. That's the expedition. |
| | |
| --- | --- |
| George Malley: | "Will you love me for the rest of my life?" (Question from the dying George Malley" |
| George Malley: | Will you love me for the rest of my life? |
| Lace Pennamin: | "No. I'll love you for the rest of mine." |
| Lace Pennamin: | No, I 'll love you for the rest of mine. |