Philadelphia
(1993)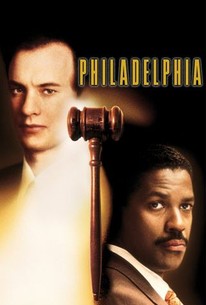 TOMATOMETER
AUDIENCE SCORE
Critic Consensus: Philadelphia indulges in some unfortunate clichés in its quest to impart a meaningful message, but its stellar cast and sensitive direction are more than enough to compensate.
Movie Info
At the time of its release, Jonathan Demme's Philadelphia was the first big-budget Hollywood film to tackle the medical, political, and social issues of AIDS. Tom Hanks, in his first Academy Award-winning performance, plays Andrew Beckett, a talented lawyer at a stodgy Philadelphia law firm. The homosexual Andrew has contracted AIDS but fears informing his firm about the disease. The firm's senior partner, Charles Wheeler (Jason Robards), assigns Andrew a case involving their most important client. Andrew begins diligently working on the case, but soon the lesions associated with AIDS are visible on his face. Wheeler abruptly removes Andrew from the case and fires him from the firm. Andrew believes he has been fired because of his illness and plans to fight the firm in court. But because of the firm's reputation, no lawyer in Philadelphia will risk handling his case. In desperation, Andrew hires Joe Miller (Denzel Washington), a black lawyer who advertises on television, mainly handling personal injury cases. Miller dislikes homosexuals but agrees to take the case for the money and exposure. As Miller prepares for the courtroom battle against one of the law firm's key litigators, Belinda Conine (Mary Steenburgen), Miller begins to realize the discrimination practiced against Andrew is no different from the discrimination Miller himself has to battle against. The cast also includes Antonio Banderas as Andrew's partner, Joanne Woodward as Andrew's mother, and Stephanie Roth as Joe's wife. ~ Paul Brenner, Rovi
News & Interviews for Philadelphia
Critic Reviews for Philadelphia
Audience Reviews for Philadelphia
One of the first movies to deal with delicate matters like AIDS, homosexuality and intolerance at the time of its release. Although not altogether memorable, this is a praise-worthy effort that relies on some great performances and proves to be a deeply touching experience.
Carlos Magalhães
Super Reviewer
Philadelphia is heartfelt and well-performed despite the simple plot. Tom Hanks & Denzel Washington provide remarkable charisma and chemistry in this film along with a creative direction from Jonathan Demme, making this piece an underrated film of the 90s. 4/5
Eugene Bernabe
Super Reviewer
Upon its release, this was a very important and groundbreaking film since it was the first major Hollywood effort to deal with the medical, social, and political issues of AIDS. The story revolves around lawyer Andrew Beckett who is fired (he is told) for incompetence. He thinks the real reasons he is fired is because he is gay, but more importantly, because he is dying of AIDS. He feels an injustice has been done, so he teams up with an ACLU lawyer to take his former employers to court. Tom Hanks won his first of two consecutive Oscars with this role as Andy Beckett, and yeah, he is wonderful. He gives a moving and sensitive performance- really highlighting what it is like to experience the stigmas surrounding the AIDS virus, especially at that time. As his lawyer, Denzel Washington is also top notch. I like how Washington's Joe Miller openly admits his dislike of homosexuals, but comes around when he realizes that Beckett really was unjustly let go. The film's primarily a courtroom drama, but it's not nearly as gripping as something like A Few Good Men. I appreciate the way the film handles the subject matter, but I can't help but feel it gets a bit too heavy handed, preachy, and pretentious at times, though thankfully it's largely nuanced for a lot of it. If going solely by the acting, this would get at least 4.5 stars, but as an overall experience I think 4 is pretty fair. It is an important work, but I think it's a bit rough around the edges, being groundbreaking and whatnot. All in all though, I do recommend it, because it is very affecting and touching.
Chris Weber
Super Reviewer
Philadelphia Quotes
| | |
| --- | --- |
| Sarah Beckett: | I didn't raise my children to sit at the back of the bus |
| Sarah Beckett: | I didn't raise my children to sit at the back of the bus. |