The Philadelphia Experiment
(1984)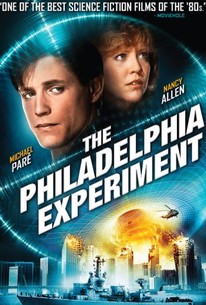 The Philadelphia Experiment Photos
Movie Info
This interesting sci-fi adventure (named and adapted from a widely-reported incident in 1942 about a battleship that supposedly disappeared with all its crew) begins in 1943 on a naval destroyer where strange experiments are being enacted. Something goes wrong and the ship and two crewmen are sent forty nine years into the future. They then try to solve the mystery of how they got there and how they can get home. In the meantime, one of the soldiers falls in love.
Critic Reviews for The Philadelphia Experiment
Audience Reviews for The Philadelphia Experiment
½
Highly enjoyable adventure which is supposedly based on the real events of 1943 involving the USS Eldridge. Of course there is no evidence to support the stories but the spooky possibility of it all is still fun to think about and actually adds to the films enjoyment. Yes it looks pretty kooky now with lots of errors and dodgy effects but like many old films that's part of the fun. Actually the effects for the time vortex aren't too bad and the shots of the vortex hole in the sky with lots of swirling cloud around it are quite good still. The acting is very basic and hokey with chief of cheese Mr Pare and one of the Queens of the 80's Nancy Allen both in a very soppy love plot. Lots of military types running around being ordered by lots of scientist types in white coats...its all very cute. Its really the perfect boys own adventure with a love interest, daring heroism, mystery and a happy ending which can't fail to make you smile..it will also make you wanna jump through time vortexes too.
Phil Hubbs
Super Reviewer
Likeable little sci-fi, love story thing.
Marcus Woolcott
Super Reviewer
Time travel story that's strangely devoid of the usual humour and charm that's associated with this kind of thing. Dull and rather pointless; the similar The Final Countdown is far better.
The Philadelphia Experiment Quotes
There are no approved quotes yet for this movie.