The Philadelphia Story
(1940)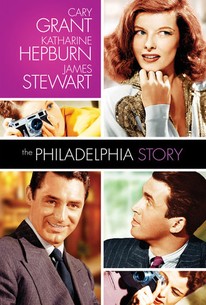 TOMATOMETER
AUDIENCE SCORE
Critic Consensus: Offering a wonderfully witty script, spotless direction from George Cukor, and typically excellent lead performances, The Philadelphia Story is an unqualified classic.
The Philadelphia Story Photos
Movie Info
Set among the upper class in 1930s Philadelphia, this irreverent classic romantic comedy features radiant performances by three legendary stars. On the eve of her marriage to an uninteresting man, a headstrong socialite jousts verbally with her charming ex-husband, drinks too much champagne, and flirts outrageously with a handsome reporter.
News & Interviews for The Philadelphia Story
Critic Reviews for The Philadelphia Story
Audience Reviews for The Philadelphia Story
A work that stands squarely on a wonderfully witty script that nearly redefines the word bouncy, and a thing of beauty to see performed. The work for me has one niggling flaw and I hesitate even to mention it, but here goes: Kate Hepburn as desirable? Every male in the film literally falls all over themselves over her, but I am struck speechless. Am I the only one scratching his head over that? I kept wishing that she had exchanged roles with Ruth Hussey (Grant and she share only one brief scene together but I get more heat from that exchange than anything else in the whole film) but nobody's listening to me anyway. Hepburn, I understand, grabbed the rights of the piece and made sure it was made especially for her, but I alone wonder what type of woman were the words originally intended for, and how it would have played - I can't believe it was for Hepburn's type. Cukor outdoes himself again, despite the handicap.
Kevin M. Williams
Super Reviewer
½
A witty romantic comedy with a refined, intelligent dialogue and sharp performances, especially Hepburn and Stewart, although I feel reluctant to accept the sexist way that it correlates a woman's strong character with her being a prig, as if humbling and taming were the same.
Carlos Magalhães
Super Reviewer
It's Katharine Hepburn's picture, but with as fetching a lineup of the talent as is to be found, she's got to fight every clever line of dialog all of the way to hold her lead. Pushing hard is little Virginia Weidler, the kid sister, who has as twinkly any eye with a fast quip as a blinker light. Ruth Hassey is another from whom director George Cukor has milked maximum results to get a neat blend of sympathy-winning softness under a python-tongued smartaleckness. As for Cary Grant, James Stewart and Roland Young, there's little to be said that their reputation hasn't established. John Howard, John Halliday and Mary Nash, in lesser roles, more than adequately fill in what Philip Barry must have dreamt of when he wrote the 1939 play. The perfect conception of all flighty but characterful Main Line socialite gals rolled into one, Hepburn has just the right amount of beauty, just the right amount of disarray in wearing clothes, just the right amount of culture in her voice - it's no one but Hepburn. When the acid tongues are turned on at beginning and end of the film, it's a laugh-provoker from way down. When the discussion gets deep and serious, however, on the extent of Hepburn's stone-like character, the verbiage is necessarily highly abstract and the film slows to a toddle.
Dean McKenna
Super Reviewer
The Philadelphia Story Quotes
| | |
| --- | --- |
| Tracy Lord: | I'm going crazy. I'm standing here solidly on my own two hands and I'm going crazy. |
| | |
| --- | --- |
| Macauley Connor: | Kittredge appreciates Kittredge! |
| | |
| --- | --- |
| C.K. Dexter Haven: | The moon is also a goddess, chaste and virginal. |
| Tracy Lord: | Oh, stop using those foul words. |
| | |
| --- | --- |
| Macauley Connor: | Are you still in love with her? Or perhaps you consider that to be a very personal question. Liz thinks you are! Liz thinks you are. All though of course women like to roman..romanticize things a bit. |
| C.K. Dexter Haven: | Yes they do, don't they. |
| Macauley Connor: | Yes they do, don't they. |