Phoenix
(1998)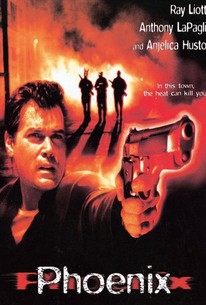 Movie Info
All is not well at the local cop station as some of the colleagues of good at heart, superstitious cop Harry are on the take. He is forced to rip off local pimp and overall bad guy (Louie) to pay off gambling debts run up with "bookie" Chicago. Things do not go exactly to plan, however, and tensions build up between the other cops. Romance and relief from violence is provided by Leila, Harry's on and off girlfriend.
Critic Reviews for Phoenix
Audience Reviews for Phoenix
½
Harry is a police officer - he is also a degenerate gambler in debt to bookie Chicago for $32K. That's basically the plot, it seems simple but it is enough to drive the film's core once it has been surrounded by plot twists, tension, strong performances, interesting characters and good dialogue. Hats off to Danny Cannon - he was the great British hope once after making Young Americans and going to the US he then messed up with Judge Dredd. But here he shows that he does have talent to lead a dark thriller successfully - albeit he is helped greatly by the plot and his actors. The film follows Harry and his 3 colleagues as they revolve around several loan sharks and bookies whilst also trying to have lives and relationships. The main focus is Harry's addiction to gambling in all areas of his life. There is also a subplot involving Angelica Huston which is meant to represent Harry's potential redemption, but this is not well developed and is secondary to the main story. The story eventually turns into a heist-gone-wrong movie but even then has enough twists to keep the interest. The main strength of the film lies in the actors that are assembled together here. Liotta plays the role well, making it possible to like this person but also making his gambling side believable - it's hard not to feel for him and his bad luck as the film progresses. Anthony Lapaglia, Daniel Baldwin, Jeremy Piven are all excellent for different reasons as his colleagues. Piven good as the cop drawn into things he doesn't want to do and Baldwin and Lapaglia are as solid as every in corrupt roles. Both Ribisi and Huston are capable of great performances but neither have a lot to work with here in terms of time or plot involvement. Giancarlo Esposito is as good as ever in a small role as Louie the loanshark - but then I've never seen him put in a bad performance, even in a bad film. Overall the plot is similar to many other crime thrillers out there. What makes this rise above the normal TV material is a dark atmosphere from Danny Cannon, a strong lead in Liotta with uniformly great support from the rest of the cast and tension an twists throughout.
Cassandra Maples
Super Reviewer
Surprisingly well made noir flick. Don't let the poster fool you, the heist thing is not the main focus of the plot. The casting makes this work, Liotta can be fun to watch in the right roles. Anjelica Huston's casting do make for an odd choice.
Tsubaki Sanjuro
Super Reviewer
An interesting tale of gambling, money and betrayal. A great part played by Ray Liotta, but did anyone else feel that he and Angelica Houston were oddly matched? This film shows a very young Brittany Murphy. VERDICT: A watchable film with some interesting parts, not great enough to rent, but catch it if it comes on tv.
Lady D'arbanville
Super Reviewer
Phoenix Quotes
There are no approved quotes yet for this movie.