The Phynx
(1970)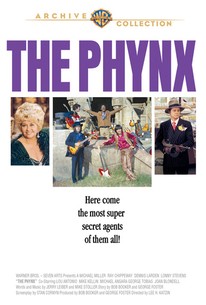 AUDIENCE SCORE
Critic Consensus: No consensus yet.
Movie Info
This uneven comedy farce finds four young men being trained as secret agents who pose as a rock band called The Phynx. The band is slated enter Communist Albania in an effort to free some political prisoners. The walls of the prison come tumbling down when the band hits the loud power chords of their amplified instruments. Busby Berkeley, Xavier Cugat, Ed Sullivan, Dick Clark, Rudy Valee and the Bowery Boys are just some of the many stars who make cameo appearances. Songs are provided from the hit team of tunesmiths Jerry Leiber and Mike Stoller.
Critic Reviews for The Phynx
Audience Reviews for The Phynx
Fans of misguided, '60s-era kitsch (think "Skidoo") won't want to miss "The Phynx." If they can find it. This rare, rare comedy (no one seems to recall if it was even shown in theaters) has one of the oddest casts in film history: charmless, unknown actors in the lead roles, plus a staggering array of pop-culture icons and has-beens in the background. They hit their mark, utter a line or two and disappear. Obviously inspired by "Get Smart," "The Monkees," "The Prisoner," James Bond and other popular spy films, "The Phynx" imagines an unlikely scenario in which an evil Albanian regime is kidnapping American celebrities and holding them hostage. The imprisoned include motley names such as Pat O'Brien, Johnny Weissmuller, Joe Louis, Busby Berkeley, Xavier Cugat, Maureen O'Sullivan, Leo Gorcey, Huntz Hall, George Jessel, Dorothy Lamour, Butterfly McQueen (her voice is as shrill as ever), Rudy Vallee, Edgar Bergen, Andy Devine, Jay "Tonto" Silverheels and even Colonel Sanders. That they're all elderly has no relevance to the plot and only suggests the producers couldn't cast younger stars who had better things to do. In any case, the United States government's unlikely solution to the crisis is to fabricate a superstar pop group trained in espionage who will become so famous that they'll be invited to Albania to perform. Once inside the borders, the lads will free the hostages and all will be well again. The chosen band turns out to be a righteously multicultural mix of two whites, a black and an American Indian (who becomes the butt of some questionable jokes). Of course, they are dubbed "The Phynx" (rhymes with "sphinx" and "Kinks"). Their music consultants include Dick Clark, Richard Pryor (one line as a soul-food cook) and Trini Lopez, while Martha Raye manages to give the movie's hammiest performance (there is stiff competition, believe me) as an informant spy. James Brown (he presents the Phynx's manager with a gold album), Guy Lombardo, Ed Sullivan, Rona Barrett, Clint Walker, Joan Blondell, Harold "Oddjob" Sakata and the voice of Rich Little also turn up. Hey, there's room for everyone. "Love Boat" casting calls were still several years away. "The Phynx" has a merciless parade of jokes and sight gags, some of which are passably clever. A secret entrance through a public restroom stall. An intelligence computer named "MOTHA" (Mechanical Oracle That Helps Americans). A meeting of spy troops that includes invisible men (a row of empty chairs) and militant Boy Scouts. The band being promoted via issuing $3 bills with the members' faces. The movie's problems are many, however. The would-be teen idols cast as the band are so forgettable that only one of them ever acted again. The goofy songs -- prominent titles include "What Is Your Sign?" and "I've Got Them Feelin' Too Good Today Blues" -- are inexplicably written by the legendary Jerry Leiber/Mike Stoller team (Stoller also wrote the score) but are overarranged in a dated pop style a la the Outsiders or Paul Revere & the Raiders. Don't bother looking for the soundtrack album. And structurally, the story's pace goes wrong in the middle with a lengthy detour about seeking three women who have secret maps tattooed on their bellies. The entire section is little beyond an excuse to show countless women in their underwear. With its bizarre cameos and contrived band-as-action-heroes plot, "The Phynx" sometimes recalls another notorious musical bomb: the 1978 version of "Sgt. Pepper's Lonely Hearts Club Band." At least "Sgt. Pepper" had performances from some legitimate stars.
Eric Broome
Super Reviewer
The Phynx Quotes
There are no approved quotes yet for this movie.