The Pianist
(2002)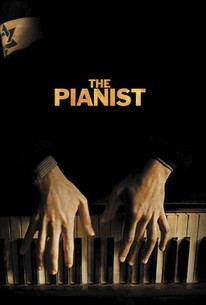 Movie Info
An adaptation based on the autobiography of the acclaimed Polish composer, Wladyslaw Szpilman, who detailed his survival during World War II, and narrowly escaped a roundup that sent his family to a death camp. A composer and pianist, Szpilman played the last live music heard over Polish radio airwaves before Nazi artillery hit. There, in Poland, Szpilman struggled to stay alive--even when cast away from those he loved. He spent the duration of the war hiding in the ruins of Warsaw and scavenging for food and shelter. Szpilman eventually reclaimed his artistic gifts, and confronted his fears--with aid from the unlikeliest of sources.
Critic Reviews for The Pianist
Audience Reviews for The Pianist
There are very few films of the Holocaust that aren't huge in scope, and often cover the tragedies of that time. "The Pianist" isn't as bloody or deathly as "Schindler's List" but it definitely shows that survivors came out of it due to pure luck, and that life is very fragile. Adrien Brody as the pianist, Szpilman, lives in the Warsaw Ghetto and after his family is taken to concentration camps, he must survive on luck and his own willpower. He works manual labor and hides at every opportunity. The film is very tense, because his fate is often uncertain, and his allies are often thwarted for their immeasurable help in hiding him. Brody gives an impeccable and heart wrenching performance, starting out with his family and trying to remain light about the situation, but eventually he becomes frail and hollow inside. The film is a shocking depiction of the war, as it should be, and comes from the uncommon perspective of a direct survivor. Haunting and absolutely horrifying, "The Pianist" broaches its subject with thoughtfulness and care.
Spencer S.
Super Reviewer
½
A fine film; worth watching.
Hard to watch and heartrending but also masterfully made.
The Pianist Quotes
| | |
| --- | --- |
| Wladyslaw Szpilman: | What are you reading? |
| Henryk: | "If you prick us, do we not bleed? It you tickle us, do we not laugh? If you poison us, do we not die? And if you wrong us, shall we not revenge?" |
| Henryk: | If you prick us, do we not bleed? It you tickle us, do we not laugh? If you poison us, do we not die? And if you wrong us, shall we not revenge? |
| Wladyslaw Szpilman: | [seeing that it is Shakespeare's 'The Merchant of Venice'] Very appropriate." |
| Wladyslaw Szpilman: | [seeing that it is Shakespeare's 'The Merchant of Venice'] Very appropriate. |
| | |
| --- | --- |
| Wladyslaw Szpilman: | I don't know how to thank you. |
| Captain Wilm Hosenfeld: | Thank God, not me. He wants us to survive. Well, that's what we have to believe. |
| | |
| --- | --- |
| Wladyslaw Szpilman: | Halina |