The Piano Teacher (La Pianiste)
(2001)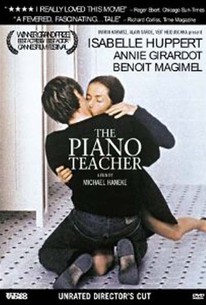 The Piano Teacher (La Pianiste) Photos
Movie Info
Erika Kohut is a piano teacher at the Vienna Conservatory prestigious music school in Vienna. In her early forties and single, she lives with her overprotective and controlling mother in a hermetically sealed world of love-hate and dependency, where there is no room for men. Her sex life consists of voyeurism and masochistic self-injury. Lonely and alienated, Erika finds solace by visiting sex shops and experimenting with masochism. Ata a recital, she befriends Walter, a handsome young man, whom she seduces and with whom she begins an illicit affair. As Erika slowly drifts closer to the brink of emotional disorder, she uses the love-stricken Walter to explore her darkest sado-masochistic fantasies, which eventually lead to her undoing.
News & Interviews for The Piano Teacher (La Pianiste)
Critic Reviews for The Piano Teacher (La Pianiste)
Audience Reviews for The Piano Teacher (La Pianiste)
A sexually repressed piano teacher falls for one of her students. Isabelle Huppert plays Erica with a reserved but volcanic sexuality that comes through in all her moments of compelling silence. Her performance is nuanced and courageous, especially when Erica's more vulnerable side is revealed. Hers is a character who begins being interesting when she fights with her mother, gets uninteresting when we realize how boring her day-to-day life is, and remains interesting for the rest of the film after she cuts her own vagina with a razor blade and spends her free time in a porn shop watching the quarter peep show films. I was once in a creative writing workshop, and someone asked me why my character was the way he was. I didn't know how to answer. "Because that's just the way he is," I wanted to reply. But after watching The Piano Teacher, I understand the question better because it's the one flaw in the film. Why is Erica the way she is? What causes her disconnect from people? Her mother can't be blamed for everything, can she? This is where subtle backstory about her past relationships and her early development would've been enlightening. Overall, I liked The Piano Teacher, especially Huppert's performance, but I still think there's something important missing in the character's construction.
Jim Hunter
Super Reviewer
½
Disturbing and indecent, but a brilliant character dichotomy exploring themes on desires and depression. The Piano Teacher is an honest and daring wild arousal to curiosity. Remarks a rhetorical question, "what is your dark secret?" Harrowing.
Jan Marc Macababayao
Super Reviewer
½
Absolutely electric; a story of a woman's complete inability to assume sexual control and the explosion of neuroses that result. Though quite long - probably a bit too long for most, though I didn't mind - The Piano Teacher's beats are extremely simple, almost elemental. She has a domineering mother, she teaches piano, she catches the eye of a talented student. The film proceeds in a relatively linear fashion, but the anchor that sells the intense dysfunction around which it revolves is Isabelle Huppert. Unlikeable from the start, Erica invites pity, but only in a very limited capacity; her cruelty only seems to beget the miserable relationship she has with both her mother and herself. Her stony, pinched face renders her immediately contemptible, the kind of person you see on the street and think "what a bitch" to yourself. She wears that mask at just the right times, wearing you down to the point where you just can't tolerate her anymore, then wearing you down in a completely different way once the film starts exploring some new territory. Huppert is merciless and dazzlingly brave in the sort of work that's just too bold for the Oscars, but a performance such as this is a reward in and of itself. The events that she maneuvers through, which are all sorts of degrading and hostile and unwatchable, give the film a sense of frayed nerves. Though not a thriller by any stretch of the imagination, everyone within seems to constantly be dancing on the edge of ruination, to the point where it sure as hell feels like one. Visually sterile and sonically mute, save for diegetic piano music, it's the most suffocating film that the classically suffocating Michael Haneke has ever made. An immense challenge, but for those who are in tune with its brutality, it's also an infinitely rewarding one.
Drew Smith
Super Reviewer
The Piano Teacher (La Pianiste) Quotes
There are no approved quotes yet for this movie.