Piccadilly
(1929)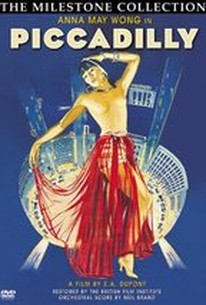 Movie Info
A scullery maid turned nightclub performer steals the screen -- and the leading man -- from her rival.
News & Interviews for Piccadilly
Critic Reviews for Piccadilly
Audience Reviews for Piccadilly
½
This silent film from 1929 was quite a treat. To start with, it has a starring role for Anna May Wong and a supporting role for King Hou Chang that doesn't show them in horribly stereotypical ways, as many other films from this period do. That was the reason Wong had moved to Europe a year before, and she absolutely lights up every scene she's in. I loved how her character is not only a sex symbol, but also strong and intelligent. It's also impressive that at a time in movies and society when many were strongly against 'miscegenation', director Ewald André Dupont clearly indicates that she and a white man have sex, though he cuts away just before an interracial kiss. And in general, the film doesn't condone any racism. There is a scene in a blue collar pub where a white woman comes in off the street and begins dancing with a black man, and he's then kicked out, but here we feel compassion for him, and Dupont's hand in juxtaposing it with the racial dynamic of the main characters. The film plods along at times and you have to be patient with it. It is a little uneven, but you'll notice Dupont using techniques that feel ahead of their time - fast cuts, dissolves, long shots, flashbacks, and some great camera angles. Several times he puts us 'behind the scenes' or in places with common people, which feel (and probably were) highly authentic. Wong's main dance number seems to be a strange mix of Thai and Hawaiian, but it's certainly interesting to watch, and is no more odd than a lot of the other dancing shown in this movie and others from the period. I also loved how Dupont how shot the scene, including a shot of her shadow. The trial at the end seems to drag things on unnecessarily, but includes a nice plot twist. Sure, it all could have been tightened up, but considering it for the time, and the fantastic role and performance Wong gives, it gets a high review score from me.
Antonius Block
Super Reviewer
Piccadilly is just amazing. Right from the start I was instantly impressed with the costumes and settings, obviously being a silent film set in the period it was made, it felt like I was watching a piece of history, like being put in a time machine for a few hours. The look and feel of the film are worth a ten on their own, to be honest, but in reviewing it, I felt I could only give it a good review if it's other elements, plot, acting etc. were up to scratch, and they were too. In the few silent films I've seen, the acting has been very "stage acting" over the top and dramatic, so I was expecting to see more hams than I'd see in a butcher, but I got some really great performances, I was really impressed, especially by King Ho Chang who played Jim. Right, plot summary then, the film is about the Piccadilly Club losing it's main attraction, a dancer named Victor, and discovering his successor in the club's own scullery. What then follows is a typical love triangle plot, between the new dancer, Shosho, the club owner, Valentine and Victor's old dance partner, Mabel. As simple as the plot sounds, despite being made 77 years ago it manages to not come off clichéd, which is a remarkable achievement. The fact that it is a silent film I think helped it in my eyes. To be honest, if this were made as a "talkie" I think I would have found it harder to like, as the great constant score gave these images a beautiful dreamlike quality and to strip it away for just a few seconds to hear actors speaking dialogue would have certainly destroyed it. Maybe it was just that Piccadilly was the first really decent silent film I've sat down and paid attention to, maybe it's that I was in the mood for it, or maybe it is just a great film.
Cassandra Maples
Super Reviewer
½
A typical romance drama mystery involving dancers who are fighting over a man, nothing new. It's not horrible, but it's not good either.
Piccadilly Quotes
There are no approved quotes yet for this movie.