Picking Up the Pieces
(2000)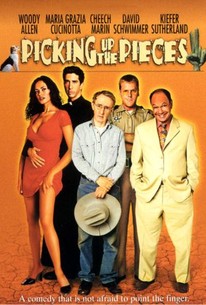 AUDIENCE SCORE
Critic Consensus: No consensus yet.
Movie Info
A crime of passion unwittingly leads to a "miracle" in this satirical comedy. Tex (Woody Allen) is a butcher who is married to Candy (Sharon Stone), a former exotic dancer who has no skill or enthusiasm for fidelity. Unhappy with her extramarital affairs, Tex kills Candy while performing a "sawing the woman in half" trick with her during a magic show. Tex tries to bury the pieces of Candy's body on the outskirts of town before anyone can find out the trick was real, but he makes the mistake of losing one of Candy's hands along the way; a blind woman happens upon it, and when she can suddenly and miraculously see, she's convinced she's found the hand of the Holy Virgin. Father Jerome (David Schwimmer), the priest of the local Catholic church, isn't so sure, but the town's mayor (Cheech Marin) is more than happy to have hundreds of tourists coming into town to see a holy relic, and word of the miraculous hand spreads like wildfire. However, Sheriff Bobo (Kiefer Sutherland) is convinced the severed hand appeared through foul play, and Tex is eager to retrieve it before anyone finds out who was once attached to it. Picking Up the Pieces, which also features Fran Drescher, Eddie Griffin, Andy Dick, and Elliott Gould, had its American premiere on the Cinemax premium cable network after the film's controversial themes prevented it from getting a distribution deal with a U.S. studio.
Critic Reviews for Picking Up the Pieces
All Critics (4) | Fresh (0) | Rotten (4) | DVD (1)
Not BAD, just too damn weird!
February 27, 2001 | Rating: 50/100
It's a strictly for the pits film, but it did get in a few good body punches on the church.
Audience Reviews for Picking Up the Pieces
The biggest mystery about "PIcking Up the Pieces" is why such a bewildering array of well-known actors signed up for this silly, sacrilegious farce. The cast is like the head table at a celebrity roast: Woody Allen, Sharon Stone, Kiefer Sutherland, David Schwimmer, Fran Drescher, Elliott Gould, Eddie Griffin, Cheech Marin, Joseph Gordon-Levitt, Andy Dick and Lou Diamond Phillips are all hamming it up and vying for screen time, but their talents are mostly wasted on broad characterizations and cheap jokes. Sutherland and his ever-nimble toothpick have a ball and come off quite well, but other thankless roles just suggest the acting community really, really loved "Like Water for Chocolate" (also directed by Alfonso Arau). The main allure of "Picking Up the Pieces" is seeing Woody Allen in a rare appearance as a hired actor, though he's playing a nebbish part which he might as well have written himself. Allen portrays a Texas butcher who kills and dismembers his floozy wife (Stone), then trucks across the border to secretly bury her in the titular "pieces." He loses her hand in transport, but a blind woman (literally) stumbles on it and magically regains her sight. This leads to her tiny village enshrining the hand (extended middle finger and all), while an ethically shaky priest (Schwimmer) struggles with his conscience. More and more healing miracles occur, and the town becomes a cash-cow tourist trap. Meanwhile, Allen hears about the lost hand's notoriety and plots to steal back the evidence. The resulting complications are predictable (the sight gags involving enlarged breasts and penises are especially crass), but the film is plenty of fun anyway. Book it along with Alex Cox's "Straight to Hell" for a midnight double feature.
Eric Broome
Super Reviewer
Picking Up the Pieces Quotes
There are no approved quotes yet for this movie.