The Pick-Up Artist
(1987)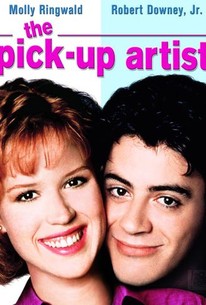 The Pick-Up Artist Photos
Movie Info
In this low-budget romantic comedy, a self-styled playboy (actually a young grade-school teacher) puts his best moves on a lovely tour guide at a New York museum and soon finds himself hopelessly entangled with the mob.
Critic Reviews for The Pick-Up Artist
Audience Reviews for The Pick-Up Artist
I know this movie isn't perfect, but I do love it. One of those movies I grew up with staring the beautiful Molly Ringwald as Randy. How much did I want to be her growing up. Looking at it now, Robert Downey Jnr's character, Jack, is pretty damn sleazy, and not really worthy of Randy, but hey, 80's movie. Good cast. No complaints from me. Although they really could have changed the casts wardrobe for the final scene. Everytime I watch this it bothers me that the two leads are wearing the exact same clothes two days later. Must have been a hell tight budget.
Nicki Marie
Super Reviewer
½
The story is kind of a mish-mash of two different stories, and the dialogue is horrible, but there are a bunch of great actors in the movie. The actors are the only reason to watch it, and they can't even help the movie that much. Overall, it's not a good movie.
½
Nothing special, but this really finds its own in the second half. The first half is just a little too happy go lucky and silly, but when the love story kicks in between Robert Downey Jr. and Molly Ringwald, it's smooth sailing. The premise is interesting and natural for its release period. It takes the term ladies man and takes it to a more extreme level. RDJ holds all the cards here, his performance is comedic gold with a touch of genuine dramatic acting.
Conner Rainwater
Super Reviewer
The Pick-Up Artist Quotes
There are no approved quotes yet for this movie.