Picnic at Hanging Rock
(1975)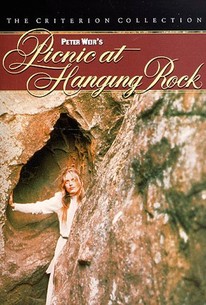 TOMATOMETER
AUDIENCE SCORE
Critic Consensus: Visually mesmerizing, Picnic at Hanging Rock is moody, unsettling, and enigmatic -- a masterpiece of Australian cinema and a major early triumph for director Peter Weir.
Picnic at Hanging Rock Photos
Movie Info
Peter Weir's breakthrough Australian drama about three girls and a teacher who disappear during a school outing.
News & Interviews for Picnic at Hanging Rock
Critic Reviews for Picnic at Hanging Rock
Audience Reviews for Picnic at Hanging Rock
The unexplained 1900 Valentine's Day disappearance of four schoolgirls and a teacher affects the residents and neighbors of an all-girl college in Australia. This gauzy meditation on sexual repression and loss can have a hypnotic effect on those susceptible to its mysterious moods, while others find it an inconclusive bore. Both sides have an argument, but in general the good here outweighs the bland.
EightThirty .
Super Reviewer
½
Miranda: Everything begins and ends at the exact right time and place.  "A recollection of evil." Picnic at Hanging Rock is like nothing you would expect. It has a horror film plot, but it never turns into a horror film. It's haunting, sure, but never terrifying, and I am perfectly fine with that. What the movie is, is a brilliantly subtle piece of filmmaking. The atmosphere during the Hanging Rock scenes is amazing and the cinematography throughout the whole movie is perfect. The movie turns into a realistic missing persons story. Shit happens in this world that will never be explained. This story is told with that belief. Stuff happens, and we will never know the outcome. People are abducted and killed daily and some of them we will never find and we will never completely know the truth about what happened to them. Was it a human being? Was it something otherworldly? Who's to say? That's what this movie is all about. A group of students at a girls college in 1900 Australia go for a picnic at Hanging Rock. Four students go away from the group and start exploring the rock formations. Even as we watch them, we have no real idea what is going on, as they disappear behind a rock never to be seen again. One student doesn't follow them and makes it back fine. A teacher goes looking for the missing students and is also never seen again. From there, search parties are put out and the girls wonder what happened to their classmates. But you get the sense that everyone knows it is a lost cause. There's a lot to love if you can stand the extremely slow and eventless pacing of the film. I could to a certain extent, but I found myself, at times, getting very far away from the movie. I couldn't concentrate on the film the whole time, but I could always come back and get right back into the film. With more viewings I think I would like it a lot more.  This movie kind of reminds me of an event prior to The Blair Witch Project. It's the unexplained that leads people to always want answers, but they never will be able to get them and if they try, they too will become part of the mystery. From everything you hear about this movie, it is weird that once you finally watch it, it is nothing like what you expected. Still, it is as haunting a movie as you could ever wish to see, without ever actually being scared.
Melvin White
Super Reviewer
Picnic at Hanging Rock Quotes
| | |
| --- | --- |
| Miranda: | What we see and what we seem are but a dream - a dream within a dream. |
| | |
| --- | --- |
| Constable Jones: | There's some questions got answers and some haven't. |
| | |
| --- | --- |
| Miranda: | Everything begins and ends at exactly the right time and place. |