Picture Day
(2012)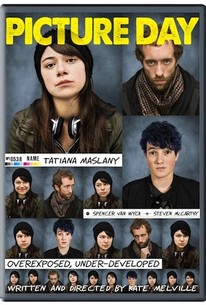 Movie Info
Forced to repeat her senior year in high school, Claire's (Tatiana Maslany) reputation is sliding from bad-ass to bad joke. At night, she escapes to would-be rock star Jim (Steven McCarthy), while at school, she bonds with Henry (Spencer Van Wyck), a nerdy freshman she used to babysit. Eventually, Claire learns the difference between sex, intimacy, and friendship.
Critic Reviews for Picture Day
Audience Reviews for Picture Day
½
Quite a nice movie. I didn't expect much, so I was surprised when I actually found it quite engaging. Troubled teen girl gets involved with a douchey male in his 30's who sings in a band. She is outcast at school due to a bad rep and matching attitude. I actually quite liked her character. Definitely not perfect, but very real.
Nicki Marie
Super Reviewer
½
Now here's an insightful little teen film that gets the angst of coming-of-age without having to resort to the same old cliches. "Picture Day" from promising first-time filmmaker Kate Melville is a sensitive portrayal concerning a couple of teens going about the daily grind. The reckless, wannabe rebel Claire (Tatiana Maslany), forced to attend an extra year of high school, befriends the socially awkward Henry; a boy she used to babysit years earlier. Claire is unaware of their history at first, but Henry isn't, and in fact has never abandoned his long standing, secretly obsessive crush. "Picture Day" is well written and unpredictable, but it is the terrific work of Maslany (a revelation on TV's "Orphan Black") that makes the film succeed. She's a quirky, natural performer and at 28 somehow plays a high schooler with utter conviction. Her character is flawed, brash, but realistically drawn and we root and sympathize with her. Melville rests a lot on Maslany's performance to great results. The plot goes some places that don't really work, and some scenes are in need of a good trimming, but this is never the less a rarity in the teen genre; one that favors character development, leisurely pacing, and no easy answers. This is smart, good-natured indie fare with a terrific performance at it's center. It's imperfect sure, but memorable and well worth seeking out.
Picture Day Quotes
There are no approved quotes yet for this movie.