Picture This!
(2008)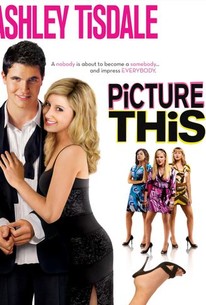 AUDIENCE SCORE
Critic Consensus: No consensus yet.
Movie Info
High School Musical star Ashley Tisdale headlines this coming of age comedy about an unpopular high school senior who lands a date with the most popular boy in school, only to find herself grounded on day of the big event. Mandy Gilbert (Tisdale) never ran with the "in" crowd, but the biggest party of the year is coming up and she needs to land a date as soon as possible. Much to Mandy's surprise, high school hunk Drew (Robbie Amell) agrees to accompany her to the big event. But just when it seemed like everything was going to work out in the end, Mandy is placed under detention by her overprotective dad. Perhaps with a little help from her resourceful friends and her handy new video phone Mandy will be able to trick her father, outsmart Drew's jealous ex-girlfriend, and finally prove that she has what it takes to become the most popular girl in school.
Critic Reviews for Picture This!
Audience Reviews for Picture This!
Obviously trying to be more like Mean Girls than anything else, this is unoriginal and boring. The acting is pretty terrible but I'd recommend to teen girls.
Sophie Burgess
Super Reviewer
I can't really rate this movie fairly because I borrowed it from the library and saw most of it but it was pretty scratched up so I missed key scenes. One of the most important scenes is when we find out the nature of Drew's true character. Will Mandy will do sexual stuff with him or will she go home and confess to her dad that she's been lying to him all day??? From the skipping in the DVD, it really looked like Drew turned out to be a creep and Mandy did the right thing by walking away. But then the movie takes a turn for the worse because it really looks like Mandy never confessed her lies to her dad and then at the end she lets Drew put a crown on her. It really makes no sense unless Drew's character turned out to be good after all. I was extremely angry at Mandy for continually lying to her father... who cares if he is controlling and possessive? You need to respect and obey him and gain his trust by proving your character. GAH. Little teenie boppers will go nuts for this movie but to me, it was just lame. There were some really good moments, but they were all with the dad's character and his little nephew and sister.
Dannielle Albert
Super Reviewer
Cute teen movie. Nothing amazing and gets a bit tiresome at times - for example with the band bit, but on the whole okay. Kind of reminded me of Ferris Bueller updated for some reason, with how she kept getting out of scrapes and fooling her father into thinking she was studying etc. Young teens and tweens will love it, and also older people with a low maturity level!
Nicki Marie
Super Reviewer
Picture This! Quotes
There are no approved quotes yet for this movie.