Pieces
(1983)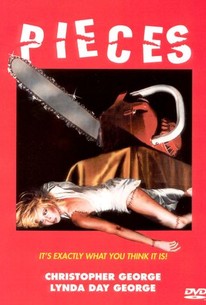 Movie Info
With a tagline that reads, "You don't have to go to Texas for a chainsaw massacre," this Spanish-Italian entry into slasher film territory went on to achieve a dubious distinction as one of the most tasteless films ever produced. The bloodshed opens in 1942 with a scene of a little boy axing his mother after her discovery of him piecing together a puzzle of a nude girl. Cut to 42 years later and the little ax-man has moved on to chainsaws as he begins buzzing coeds on the campus of a New England college. Police Lieutenant Bracken (Christopher George) and his partner arrive to investigate. They find a trail of dismembered bodies that happen to be missing some parts and a group of suspects including a shady dean of students (Edmund Purdom), an anatomy professor (Jack Taylor), and a monstrous caretaker (Paul Smith). Led by beautiful undercover cop Mary Riggs (Lynda Day-George) and student-stud Kendall (Ian Sera), the investigation leads everyone to the killer, who has just finished adding the final pieces to his human jigsaw puzzle.
Critic Reviews for Pieces
Audience Reviews for Pieces
½
You do not have to go to Texas for a chainsaw massacre. From the producer of Last House on The Left and Friday the 13th comes the sickest and most violent of ll th 80's slasher movies. A psychopathic killer collects body parts from his nubile co-ed victims to create the likeness of his mother who he savagely murdered with an axe when he was ten years old. Mil Gritos Tiene La Noche also known as Pieces is one of my favourites slasher films of all time...it has chainsaw violence, absurd scenes, nudity, and a bizarre ending. Oh and also has the best tagline "Pieces..it's exactly what you think it is". The best chainsaw flick since the original Texas Chainsaw Massacre.
Cassandra Maples
Super Reviewer
When the film begins, with the mother yelling insanely at the young boy for doing a puzzle of a nude girl, you expect a dull Psycho copycat movie, and then he brings in an axe and hacks her to pieces. There is a lot of fantastic gore in this movie. Maybe the characters and dialogue aren't so great, but it makes you laugh, so the movie isn't just gore. I really enjoyed this, and I recommend it to grindhouse and foreign horror fans.
Gory ridiculous fun! Some parts are just hilariously bad, but that all adds to the fun-factor. The murders are really quite graphic so gorehounds will definitely be satisfied with what is shown. A guilty pleasure for many out there - go see it for yourself!
Pieces Quotes
| | |
| --- | --- |
| Lt. Bracken: | He cut that poor girl in half while she was still alive! You have any idea the terror that kid went through? She was still alive for Christ's sakes!! |
| Lt. Bracken: | He cut that poor girl in half while she was still alive! You have any idea the terror that kid went through? She was still alive for Christ's sakes! |
| Sgt. Hoden: | I know lieutenant I know, but I'm doing the best I can. If I go too fast, I might miss something. You just got to give me more time. |
| Lt. Bracken: | We don't have anymore time! |