The Pied Piper
(1972)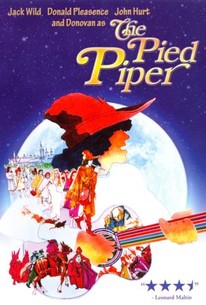 Movie Info
The Pied Piper eschews the romanticism of Robert Browning's poem and returns to the grim Grimm Brothers source. Pop singer Donovan plays the 14th century piper hired by a duplicitous burgomaster (Donald Pleasence) to rid the town of Hamelin of its rats. The piper does what he's asked, but is denied the payment promised him; in revenge, he leads all of Hamelin's children out of town, never to be seen again. Though the story is a familiar one, this 1972 Pied Piper is not a kiddie movie. Director Jacques Demy's depiction of the 14th century as a muddy, backward, superstitious, disease-ridden, vermin-infested era transforms this fable into a squalid tale of revenge (incidentally, all those repulsive rodents are real). Donovan is matched by a remarkably restrained Jack Wild as the crippled boy, and John Hurt also co-stars.
Critic Reviews for The Pied Piper
Audience Reviews for The Pied Piper
½
Jacques Demy's retelling of "The Pied Piper" is nowhere near as enchanting as his earlier "Donkey Skin," and the reasons are easy to see. First and foremost: Donovan. Which would you prefer, a movie starring Donovan with music by Donovan, or one starring Catherine Deneuve with music by Michel Legrand? Not much of a contest, is it? Both Demy and Donovan realize the problem with the pop star's acting, and thus he is given few lines. More often, he's singing songs (three of them) with an acoustic guitar or blowing melodies in character on his pipe. Otherwise, most dialogue centers on the good/evil battle within the townspeople, as all struggle to combat the apocalyptic outbreak of the plague. Michael Hordern plays Melius, an alchemist who hopes to whip up a solution in his cluttered hovel. Jack Wild (a couple of years after his much-loved work on "HR Pufnstuf") plays Melius's lame assistant, showing mostly that he's quite good at scuttling around on a crutch. Donald Pleasance is the corrupt burgermeister, while John Hurt plays a privileged jerk aiming to marry a young -- very young -- ingenue (Cathryn Harrison, so fascinating a few years later in "Black Moon"). A posse of intolerant cardinals also storms about, and you're starting to picture scenes from a concurrent Monty Python sketch, you're easily forgiven. Except there is little, if any, humor in this tale. Surprisingly, Demy's "Piper" is not so well-suited for children. The visuals are unavoidably short on dazzle since it's a story not about kings and castles but about a poor, rat-infested village. Also, the ending is quite downbeat, and includes a character being burned at the stake, the failed attempt to stop the plague and, of course, the piper luring away all the town's children. Demy soft-pedals the latter by not suggesting the kids have been led to death and (strangely) not even depicting the townspeople's anguished discovery of the abduction. But still, this is hardly a "happily ever after" finish.
Eric Broome
Super Reviewer
The Pied Piper Quotes
There are no approved quotes yet for this movie.