Pierrepoint: The Last Hangman
(2007)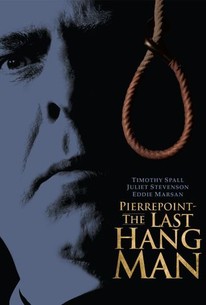 TOMATOMETER
AUDIENCE SCORE
Critic Consensus: Director Adrian Shergold doesn't shy away from the darker elements of the movie's subject, and Timothy Spall is mesmerizing as the title character.
Pierrepoint: The Last Hangman Photos
Movie Info
Following in the footsteps of his father and uncle before him, Albert Pierrepoint joins the "family business" in 1934. He rises through the ranks to become the most feared and respected executioner in the country, hanging more than 450 people in his lifetime. Living a double life as a master hangman, and a grocery deliveryman and loyal husband, Pierrepoint's obsession to become the "Number One" executioner in the country results in his selection as executioner for some of Britain's most infamous murderers and Nazi war criminals. But this brings notoriety, shattering Pierrepoint's guarded anonymity and turning him into a minor celebrity. When public opinion turns against capital punishment, Pierrepoint becomes a scorned man and is ready to give it all up, but fate has other plans in store for him. A devastating, true-life story of Albert Pierrepoint, Britain's most notorious hangman.
News & Interviews for Pierrepoint: The Last Hangman
Critic Reviews for Pierrepoint: The Last Hangman
Audience Reviews for Pierrepoint: The Last Hangman
½
Insightful character study of one of Britain's last executioners. In his lifetime, Albert Pierrepoint hung over 600 people, including several Nazi war criminals and Ruth Ellis (see Dance With A Stranger). Though he seemed outwardly detached, this film suggests that Albert's unusual profession eventually took a tremendous toll on his psyche and deeply impacted his personal life.
Randy Tippy
Super Reviewer
Excellent performances, particularly Timothy Spall in the lead, highlight this story. A man of deep compassion who was able to perform the job of executioner, feeling that they had already been judged, by looking at it as a duty and providing the condemned with as quick end as possible. Hardly a light entertainment this is more of a chamber piece for those who prefer realistic drama.
½
[font=Century Gothic]"Pierrepoint: The Last Hangman" is about Albert Pierrepoint(Timothy Spall), the real life hangman who in over 20 years on the job starting in 1932 executed hundreds of people. Following in the footsteps of his father, Pierrepoint sought to best him by becoming more efficient while also tenderly caring for the bodies after death.(His constant refrain is that the murderers have paid for their sins.) But no matter how much we may try to delude ourselves, there is no humane way to put someone to death.[/font] [font=Century Gothic][/font] [font=Century Gothic]With the countenance of an undertaker, Timothy Spall makes much of a rare chance to be the lead in this pointed character study that is especially interested in the dehumanizing effects of the death penalty, not only for the executioner but for us all. While excelling in its subtle approach for most of its length, the movie tries too hard to drive its point home towards the end, especially with a very predictable subplot. At the same time, the wonderful Juliet Stevenson is pushed further and further into thankless territory.[/font]
Pierrepoint: The Last Hangman Quotes
There are no approved quotes yet for this movie.