Pierrot le Fou (Pierrot Goes Wild) (Crazy Pete)
(1969)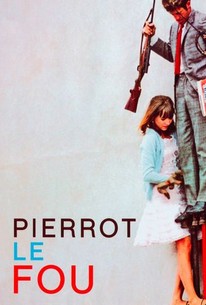 Pierrot le Fou (Pierrot Goes Wild) (Crazy Pete) Photos
Movie Info
After abandoning his wife and infant daughter for the new babysitter, a woman he'd loved and lost several years earlier, an errant husband embarks on a haphazard road to tragedy.
Critic Reviews for Pierrot le Fou (Pierrot Goes Wild) (Crazy Pete)
Audience Reviews for Pierrot le Fou (Pierrot Goes Wild) (Crazy Pete)
a step beyond À bout de souffle lies godard's avant-garde bonnie and clyde; not only influencing that film but likely influenced by it since he'd been sent the script in '65. whether this film used a script at all is an open question: it has only the barest outlines of a plot, many random asides, snatches of song, poetry, philosophy, both characters addressing the camera, so be warned if u don't have patience for such devices. otherwise it's a lovely road movie, adventure film, love story with the 'last romantic couple,' the hangdog dreamer belmondo and charming, mysterious anna karina, who never looked more beautiful. marvelous scenery and camerawork. note: i've never heard anyone refer to this as 'crazy pete' but if i did i would probably smack them.
Stella Dallas
Super Reviewer
This review was long overdue. It's been quite a while since I saw this but its images are very difficult to forget, and its freewheeling, deliberately anarchic spirit remains fresh and perhaps has a longer-lasting effect than the film itself.
Pierrot Le Fou is ideally approached with the idea that it's entirely structured from Godard's idiosyncracy; unlike, for example, Une Femme Mariée, which is more about the other, PLF seems like a canvas splattered wildly with his interests, values, obsessions. He makes a film in which the only rule is to have no rules, with no coherence other than a slight, feeble storyline and the objective of hand-making a cinematic Universe: improvisation, surrealism, just as well as gaps in the story and loose ends are all valid because cinema is a more liberating, boundless, ecstatic alternative to life.
Jean Paul Belmondo and Anna Karina are a bored family man and a free-spirited young woman. They fall in love, and together they run away from Paris and their boring, restrictive lives; in a way, they take a road trip to madness. During their journey all sorts of absurd, amusing, and cinematically breath-taking episodes take place. They (Ferdinand and Marianna) eventually seem to know that they have no place in society: nothing to go back to and nothing to look forward to, so they choose to lose their minds, enjoy the ride, and they'll worry about the rest when they worry about the rest. So, it seems to me that whereas the development of the story is definitely chaotic and feels (maybe was) barely scripted, Godard had a very clear idea of where his characters were going.
Aside from the content, the art direction is an important part of the Godard experience: beautiful cinematography, sharp angles and unusual framing, always with color -especially blue, red and white- as leit motiv. Put all these elements together, along with the script and that looming 'fate' theme of the story and you have something very close to poetry if it could be translated to film: at once violent, vibrant, and subtle.
Now I'll stop writing because the more you talk about Pierrot Le Fou the less you understand it...So much of this film is about feeling, identification, and just visual enjoyment. I don't know if it's my favorite Godard film but I think it's one of his best, and definitely one of those love-it-or-hate-it/ iconic works that will always be a reference point for innovation and brashness in filmmaking.
godard, belmondo, and karina team up again for a truly chaotic but wildly entertaining crime story that plays like a bonnie and clyde story with betrayal mixed in. karina is as beautiful as ever in this film, and although it has its absurd moments, the dialogue is as good as ever from a godard film and the style and texture of the film are a joy to watch. each time the story lost comprehension, it sort of fell back into place and pulled me back in. a bizarre but unique ending put the cap on an equally bizarre but completely satisfying film.
Pierrot le Fou (Pierrot Goes Wild) (Crazy Pete) Quotes
| | |
| --- | --- |
| Marianne Ronoir: | Aweful, isn't it? So anonymous... The say '115 guerrillas' and it doesn't mean a thing to us. Yet each one is a man, and we don't even know who he is. We don't know if he loves his wife, if he has kids, if he prefers movies or plays. We don't know anything. All they say is 115 killed. |