Pig Hunt
(2008)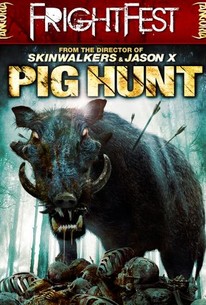 Movie Info
Jason X director James Isaac leaves Hollywood behind and comes back down to Earth for this no-hold-barred, neo-exploitation romp about a group of hunters who head into the country on a quest to bag a 3,000 pound, man-eating black boar. All Jack and his girlfriend wanted was to get out of San Francisco for the weekend. Together with a few friends, the couple loads up their truck and prepares for a few days of hunting wild boar at a secluded ranch that was owned by Jack's late uncle. Along the way, the heavily-armed weekend warriors learn of a local legend surrounding The Ripper, a massive force of nature with a taste for human flesh. Few who have encountered The Ripper have lived to tell the tale, but these ambitious hunters are determined to collect its hide. Before the group reaches the ranch, however, they manage to rub a motley crew of locals the wrong way. To make matters worse, Jack soon discovers that the ranch has been trashed, and that the vandals spray-painted a cryptic warning about The Ripper on one of the walls. Now there's no turning back, and after loading up their guns, the hunters set out to make some bacon. But just as it begins to seem as if they're closing in on the Ripper, the hunters discover that wild boars aren't the only things to fear in these woods.
Critic Reviews for Pig Hunt
Audience Reviews for Pig Hunt
As far as nature gone wrong horror films where seemingly harmless wildlife animals go nuts, and start attacking humans, Pig Hunt is almost a passable film in the genre. But this isn't Cujo or Jaws for that matter. Pig Hunt is a fun film, but of course it lacks everything that can make it a good film. it's a low budget monster film with a demented Boar as the antagonist. The idea may seem appealing, but the film is barely watchable. The film has a few good moments, but unfortunately, it's not enough to elevate this low budget Horror Comedy above decent , and the film ends up being a below average film with actors that cannot act or make this the enjoyable film that it could have been. Add to that a mediocre script, and you have a film that doesn't quit work. I think this is unfortunate because this film had good ideas and kind of hand a good idea of where it would in the horror department. The film suffers and ends up being a mediocre film, despite the fact that it's entertaining. The cast, like I said are horrible and can't act, and I personally think that it's one of the reasons that this film is not good. Pig Hunt is entertaining, but not very watchable. This is not a film that will withstand multiple viewings. The idea is good, but the execution is poor. If the filmmakers would have picked a better cast, and reworked the script a bit, I think this one would have been a good creature feature. Unfortunately it's barely watchable in the sense that the actors are bad and the plot isn't fully developed. Don't go in expecting something great with this one, you'll be disappointed if you do.
½
Hmmm, I seem to be in the minority but I really enjoyed this Deliverance/Razorback mash up. There's some decent gore, a good pace, a healthy dose of humor (some of it black) and an amazing looking wild boar that is 100% practical. In fact I don't believe there's ANY CG in this thing. Plus I like director Isaac's style (excluding Skinwalkers) so thats just a bonus for me.
A.D. Villarreal
Super Reviewer
½
A better than expected low budget horror film. It has some good moments, quite gory at times and enough action to keep you going. If it's not wild boars, you have to look out for Rednecks and hippy cults to!
Pig Hunt Quotes
There are no approved quotes yet for this movie.