Pillow Talk
(1959)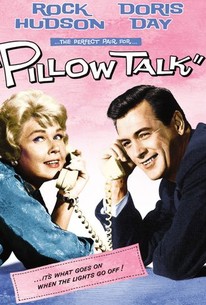 Movie Info
Playboy songwriter Brad Allen's (Rock Hudson) succession of romances annoys his neighbor, interior designer Jan Morrow (Doris Day), who shares a telephone party line with him and hears all his breezy routines. After Jan unsuccessfully lodges a complaint against him, Brad sets about to seduce her in the guise of a sincere and upstanding Texas rancher. When mutual friend Jonathan (Tony Randall) discovers that his best friend is moving in on the girl he desires, however, sparks fly.
News & Interviews for Pillow Talk
Critic Reviews for Pillow Talk
Audience Reviews for Pillow Talk
A rakish bachelor shares a party line with a prudish single woman. Shallow and farcical, Pillow Talk rests wholly on the assumption that its audience will find Rock Hudson and Doris Day sufficiently charming that they could perform whatever script and tell whatever story and the audience will still find them attractive. Unfortunately for the film, I find them both attractive but cannot stand a story that is so contrived and ridiculous that it insults my intelligence and over-estimates its own charm. Overall, this film proves that fluff is as old as cinema itself.
Jim Hunter
Super Reviewer
½
Before I delve into the mediocrity of a fifties' romantic comedy film starring Doris Day, I would like to say that I do have an unquestionable bias against this film, and that is that it stars Day. There's just something so contrived and fake about her persona onscreen and every time I watch one of her sugar spun tales of deception and happy endings my stomach curdles in horror. Romantic comedies in themselves don't chafe against me, nor ones set in a time period that valued modesty and censorship. It's this particular film that seriously rubs me the wrong way, mostly because of how sterile and playful it's trying to be about adult relationships. Being childish about sex is not toned down, and it's not fine for the times, it's gross and leaves open a vacuum that gets filled with obtuse puns and ridiculous misunderstandings between characters. Really there are no cute catastrophes or remarkable setbacks to this film. It's simply a film about a prideful, powerful businesswoman who is trying to make calls through a party line while a philandering bachelor makes calls to floozies when he should be writing hit songs. She has none of the neurosis of future female leads, only ambitions and actual character. Rock Hudson's character is a less than affable, manipulative pig, who keeps messing with Doris Day's character, while she blithely goes along with everything that happens and listens to the advice of said pig which makes no sense. Really it's two noxious characters that are so difference than these actors really are. I was sincerely surprised at Hudson, who made a joke about a character being a homosexual and not in a subtle way at that, which was Hudson's sexual orientation throughout his life. It's just too easy to be cynical about this film, and too annoyed at the pithy dialogue and fake smiles to fully enjoy the lack of chemistry between Hudson and Day.
Spencer S.
Super Reviewer
½
Romantic comedy about a couple who haven't met but share a telephone line. If you like Shop Around The Corner, You've Got Mail, How To Lose A Guy In 10 days then you will like this movie.
Candy Rose
Super Reviewer
Pillow Talk Quotes
| | |
| --- | --- |
| Jan Morrow: | Mr. Allen, this may come as a shock to you, but there are some men who don?t end every sentence with a proposition. |
| Jan Morrow: | Mr. Allen, this may come as a shock to you, but there are some men who don't end every sentence with a proposition. |