Pineapple Express
(2008)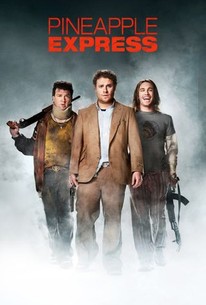 TOMATOMETER
AUDIENCE SCORE
Critic Consensus: Both funny and scattershot, this loose-knit action/buddy/stoner comedy bridges genres and keeps a steady tempo of low-ball laughs.
Movie Info
Critically acclaimed director David Gordon Green takes a break from the brooding drama that defined such early efforts as George Washington and Undertow for this action-flavored buddy comedy concerning two pot-smoking friends (Seth Rogen and James Franco) who unwittingly become involved with a vicious gang of drug dealers. Judd Apatow and Shauna Robertson produce a script co-penned by star Rogen and Evan Goldberg. ~ Jason Buchanan, Rovi
Critic Reviews for Pineapple Express
Audience Reviews for Pineapple Express
David Gordon Green directing a story by Judd Apatow is something that goes against the laws of nature, but even more surprising is how well it works, a great blend of bromance, stoner comedy and highly enjoyable action, with James Franco shining in a hilarious performance.
Carlos Magalhães
Super Reviewer
Incredibly low and silly action comedy about a couple of pot smokers stumbling into a case of corrupt cops and gang wars. The creators obviously thought it counts as humor if you're throwing ash trays at people's ears or just let them mumble nonsense. The surprisingly bloody but pointless showdown doesn't safe much anymore. This is boring and lacks any appeal like surprises, likable characters or a coherent plot. Catastrophic and a shame for everyone involved. Avoid at all costs.
Saul: It's almost a shame to smoke it. It's like killing a unicorn... with, like, a bomb.  "Put This in Your Pipe and Smoke It." Pineapple Express is one of my favorite stoner comedies of all-time. It "hits" all the "high" points that it needs to. It also pulled a great and soon to be classic performance out of James Franco as Saul the drug dealer/stoner. Everything he does, from his mannerisms to how he talks to what he says is a perfect parody/impersonation of a stoner. His performance doesn't reach the level of say Sean Penn in Fast Times, but it is one of the best stoner performances I have ever seen. Dale and his drug dealer, Saul, end up on the run from a corrupt cop and a major drug kingpin Ted. Their experience takes them through shootouts, fist fights, car chases, and wooded adventures. There are some classic scenes in this film. I especially love the woods scene. It's a perfect piece of pothead paranoia and is actually not far from some experiences you've had while smoking the cannabis.  The film has its share of problems. I won't deny that at all. Still this is a film that I can watch and re-watch and watch again. People who aren't laughing after the first scene where we see where the prohibition of marijuana came from should just give up on it there, because it's a sign of the humor to come. This is strictly a drug comedy. Sure there are elements of other forms of comedy, slapstick and sex comedy included; but as The 40 Year Old Virgin was to sex comedies, Pineapple Express is to drug comedies. If you're a fan of this genre, you'll absolutely love this film. If you aren't, you still might like it because it's better than 90% of drug comedies. So give it a try. You may not like it, but then again you may be like me and won't be able to stop laughing. If you want a little help with the experience, toke up beforehand. You'll be howling.
Melvin White
Super Reviewer
Pineapple Express Quotes
| | |
| --- | --- |
| Saul Silver: | It's almost a shame to smoke it. It's like killing a unicorn... with, like, a bomb. |
| | |
| --- | --- |
| Dale Denton: | Coucous, the food's so nice, they named it twice |
| Dale Denton: | Coucous, the food's so nice, they named it twice. |
| | |
| --- | --- |
| Matheson: | You can wear my vest, it smell good.. |
| Budlofsky: | Na, it's not my style |
| Budlofsky: | Na, it's not my style. |
| Matheson: | You ain't got no style muthafucka |
| Matheson: | You ain't got no style muthafucka. |
| | |
| --- | --- |
| Saul Silver: | Fuck Da Police!!! [Shoots at police woman and misses all shots] |