Pink Flamingos
(1972)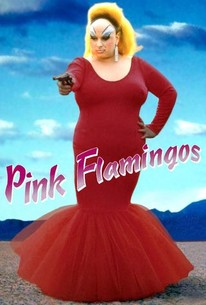 Movie Info
Renegade filmmaker and noted aficionado of expressive bad taste John Waters exploded into international infamy with this darkly comic, no-budget parade of the perverse (his third feature film, and first in color), in which plus-size cross-dresser Divine stars as Babs Johnson, a flashy criminal on the lam from the FBI who is hiding out in a trailer outside of Baltimore, MD. Accompanying Babs are her mother (Edith Massey), an obese and dim-witted woman who is malignly obsessed with eggs; her degenerate son, Crackers (Danny Mills); and Cotton (Mary Vivian Pierce), Babs' duplicitous "traveling companion" and Crackers' co-conspirator in unwholesome erotic play. While Babs would prefer to be left in peace, she takes great pride in her status as "the Filthiest Person Alive" (an honor confirmed by one of America's sleazier tabloid newspapers), and when Connie and Raymond Marble (Mink Stole and David Lochary) announce their plans to take the title away from her, Babs is not about to stand idly by. The Marbles are a hateful couple who kidnap women, force their homosexual manservant, Channing (Channing Wilroy), to impregnate them, and sell the babies to lesbian couples found unfit for legal adoption; the Marbles then turn the profits back into pornography and narcotics trafficking. Impressive stuff, to be sure, but Babs is not about to take a back seat to anyone in a battle of filth, and when the Marbles throw down the gauntlet, Babs and her family retaliate in a no-holds-barred battle to determine who truly are "the Filthiest People Alive." Featuring murder, bestiality, rape, dismemberment, coprophagia, a dizzying variety of sexual perversions, and a performance of "Papa Oom Mow Mow" you will not soon forget, Pink Flamingos is nonetheless a comedy, and a surprisingly successful one; shot on a budget of only 12,000 dollars, the film has grossed close to ten million dollars around the world, and its success launched John Waters into a career as America's leading authority on poor taste.
News & Interviews for Pink Flamingos
Critic Reviews for Pink Flamingos
Audience Reviews for Pink Flamingos
An outrageous and repellent exercise in bad taste whose only infantile objective is to leave you disgusted as if eating dog shit yourself. It isn't funny, the acting is horrible and John Waters only proves that he is an awful director with his trashy zooms and ugly camera movements.
Carlos Magalhães
Super Reviewer
½
A couple who keep impregnated women chained in their cellar so they can sell the babies to lesbians for adoption try to challenge Divine for the title of "filthiest person alive." Contains every kind of cruelty, obscenity and freak show behavior you can imagine, notoriously including unsimulated coprophagia and chickens killed during sex. There is some value in pushing the envelope so you can see where the line should be, but even John Waters realized he had gone too far with this one.
John Waters most famous film, Pink Flamingos is an awful piece of crap that is just poorly constructed with a poorly thought plot, which really doesn't make sense, and really bad cast. This is pure Exploitation done wrong. I've seen my fair share of Exploitation pictures, but this one ranks as the worst. I really don't understand as to why this film has gotten praise. This film was trash, and a poor waste of film. There is little substance here to really make it worth seeing, and the content is despicable and it's just for shock value. This is not a film classic by any means, and it doesn't deserve the praise it has gotten. Trash films are fun, I mean look at what Trauma has done. However this is just a disturbing piece of garbage that should not be watched at all costs. I was curious about this film, as I've heard plenty of things about it, how it was a milestone of cinema and such. However, when I unfortunately ended up watching it, I really didn't get the hype. Waters exposes us to every taboo there is, purely for shock value. The film leaves asking questions, as to why this crap would be made. This is not landmark cinema, and it really a picture that exhibits poor taste. The success of Pink Flamingos on the midnight film circuit is surprising. Aside from sheer shock content, the film is boring with nothing interesting going for it. I really don't see what's funny with Pink Flamingos, and it is a poorly constructed film that never should have been made.
Pink Flamingos Quotes
| | |
| --- | --- |
| Babs Johnson: | Honey! Why are we out of afterbirth!?! |
| Babs Johnson: | Honey! Why are we out of afterbirth? |
| | |
| --- | --- |
| Connie Marble: | I guess there's just two kind of people Miss Sandstone. My kind of people, and ass holes. It's rather obvious which category you fit into. Have a nice day. |