Pink Panther 2
(2009)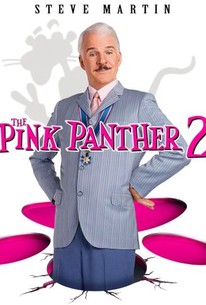 Movie Info
Hollywood funnyman Steve Martin returns to the role made famous by Peter Sellers in this high-concept sequel to the 2006 comedy hit The Pink Panther. The world's most valuable treasures are being stolen. The legendary Pink Panther Diamond is the latest to disappear, and Chief Inspector Dreyfus (John Cleese taking over acting duties from Kevin Kline) is assembling a team of international experts and detectives to track down the thief and recover the missing artifacts. The latest addition to the crack team is Inspector Jacques Clouseau (Martin), the intrepid yet awkward French detective who always seems to get his man. Jean Reno and Emily Mortimer reprise their roles as Clouseau's partner, Ponton, and love interest, Nicole, respectively, with Andy Garcia, Alfred Molina, Yuki Matsuzaki, and the Bollywood beauty Aishwarya Rai rounding out the team that will travel from Paris to Rome in search of the priceless gem.
Critic Reviews for Pink Panther 2
Audience Reviews for Pink Panther 2
½
I dunno why I watched this I really don't, maybe cause I'm a sucker for Steve Martin and his classic looney old days, aaah so good. The first Panther was actually reasonably funny in places, the hamburger scene was hilarious, trying to park his little smart car, Martin and Reno in skin tight leotards creeping around haha This second venture is just a rehash of the first in everyway, all the jokes have been seen in the original Sellars films AND the original Martin version, they have basically just gone over old ground yet again, absolutely nothing original here. The prat falls, jokes and set ups are so predictable and childish its embarrassing, the only amusing part was at the start when Cleese finds out he is being overlooked for a position in the 'dream team' for 'Clouseau', don't bother.
Phil Hubbs
Super Reviewer
Sequel to Pink Panther is just as bad as the first. Steve Martin's inspector Clouseau is unfunny and quite irritating, instead of being funny. I felt that this film missed the mark. This is an awful sequel to an already awful film. I really don't know why this was made. The first film was dreadful. The acting and story felt out of place, and nothing really fit. I had a hard time watching this. I had a hard time finishing it, and when it was over, I was relieved. This film sucked. Everything about it was bad. I usually like Steve Martin, but in this film along with the first film, it was terrible. Just bad. I can't grasp at how bad this one was. The humor is shallow, stupid and really doesn't feel right. The film sets the lowest standards for mediocrity. This is an awful sequel that has some of the most stupid moments that I have seen. I really don't get why this film was made. Steve Martin is painfully annoying in the role of Clouseau, and he makes the film not enjoyable whatsoever. If you've seen the first film, then you don't need to see this film. This sequel is stupid, badly conceived and above all, a waste of time. Avoid this film; you'll be glad you did. There's nothing to be had here except, tired irritating comedy. I've seen such a poorly made comedy since Dumb and Dumberer. The Pink Panther 2 fails to deliver good, genuine laughs.
As much as I love Steve Martin.... his Inspector Clouseau character is too much of a buffoon versus accidentally ingenious. More annoying than the Insp. Clouseau he could portray in a more clever way. John Cleese offers the only really brilliant comedic performance.
Thomas Johnston
Super Reviewer
Pink Panther 2 Quotes
There are no approved quotes yet for this movie.