The Pink Panther Strikes Again
(1976)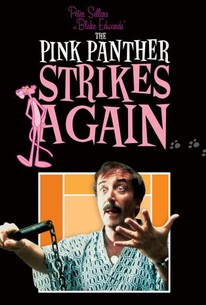 The Pink Panther Strikes Again Videos
The Pink Panther Strikes Again Photos
Movie Info
Most Inspector Clouseau fans regard The Pink Panther Strikes Again as the best of the clumsy Parisian detective's "comeback" films of the 1970s. Driven insane by the stupidities of Clouseau (Peter Sellers), ex-inspector Dreyfuss (Herbert Lom) transforms into a master criminal. Kidnapping the inventor of a death ray, Dreyfuss threatens to use the demon device indiscriminately unless Clouseau is offered as a "sacrifice." A hunted man, Clouseau is forced to adopt one transparent (but hilarious) disguise after another. He is rescued from being incinerated by Dreyfuss when Soviet spy Olga (Leslie Ann Down) falls in love with him and strives to protect him.
Critic Reviews for The Pink Panther Strikes Again
Audience Reviews for The Pink Panther Strikes Again
½
Peter Sellers' makes the role of the fool look easy - but he is a genius. Strikes Again, in my opinion, is the funniest of the Pink Panther movies when it comes to one-liners and gut-busters. The scene where Clouseau interrogates the Fosbender staff may be one of the funniest things on film - EVER. But the story isn't what makes this movie good (thank goodness). "That is what I have been saying you idiot!" Clouseau's development as a character from the original Pink Panther through the later films is a testament to Sellers' genius. It's such a pity that his career was cut short. Strikes Again is one of his greatest works as Clouseau, and for non-stop laughs this is definitely the most entertaining of the Pink Panther collection. Story: B+ Acting: A- Direction: A- Visuals: B Overall: B+ ***1/2 out of 4 stars
Matthew Rodrigues
Super Reviewer
Inspector Clouseau (Peter Sellers) bumbles his way through another set of adventures in the Pink Panther Strikes Again, a misleading title since the Pink Panther diamond doesn't appear in this chapter of the series (though the cartoon panther does). Former Chief Inspector Dreyfus (Herbert Lom) has been a patient in an insane asylum since the events of Return of the Pink Panther. He escapes and attempts to murder Clouseau, but once again fails at his obsessions. Being unable to take it anymore Dreyfus gets his hands on a doomsday device and demands a ransom from the world- kill Inspector Clouseau or he'll start bringing destruction down on everyone's head. This leads to dozens of assassins hot on Clouseau's trail with hilarious results. Strikes Again is probably the best Panther film since Shot in the Dark. The movie is filled with some great jokes and prat falls, though there are some moments that fall flat, the positives outweigh the negatives. Once again Sellers is great as Clouseau and the various disguises he employs which usually end up being utterly useless in the long run. Herbert Lom makes great use of his turn to a low rent Bond villain hell bent on killing the inspector. It's almost as if this film is a Bond parody, ahead of its time in some places (the Anglo-Russian affair in this film predates the Spy Who Loved Me by a year). The Pink Panther Strikes Again is another great platform for Peter Sellers redemption in the 1970's. Though most of the film community had written him off he proved that he still had what it takes to be a comedic genius and a great actor.
Chris Garman
Super Reviewer
½
More laughs as Inspector Clouseau manages to avoid assassination......but not on purpose! Very funny moments in this film.
The Pink Panther Strikes Again Quotes
| | |
| --- | --- |
| Francois: | Do you know what kind of a bomb it was? |
| Inspector Jacques Clouseau: | The exploding kind... |
| Inspector Jacques Clouseau: | The exploding kind. |
| | |
| --- | --- |
| Francois: | Do you know what kind of a bomb it was? |
| Inspector Jacques Clouseau: | The exploding kind. |
| | |
| --- | --- |
| Dreyfus: | [while drugged up on laughing gas] Heeheehee, haha, he pulled out the wrong tooth hahahaha only Clouseau would do anything that stupid! |
| | |
| --- | --- |
| Inspector Jacques Clouseau: | Does your dog bite? |