Pinocchio
(1940)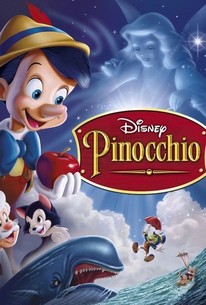 TOMATOMETER
AUDIENCE SCORE
Critic Consensus: Ambitious, adventurous, and sometimes frightening, Pinocchio arguably represents the pinnacle of Disney's collected works -- it's beautifully crafted and emotionally resonant.
Movie Info
When the gentle woodcarver Geppetto (Christian Rub) builds a marionette to be his substitute son, a benevolent fairy brings the toy to life. The puppet, named Pinocchio (Dick Jones), is not yet a human boy. He must earn the right to be real by proving that he is brave, truthful, and unselfish. But, even with the help of Jiminy (Cliff Edwards), a cricket who the fairy assigns to be Pinocchio's conscience, the marionette goes astray. He joins a puppet show instead of going to school, he lies instead of telling the truth, and he travels to Pleasure Island instead of going straight home. Yet, when Pinocchio discovers that a whale has swallowed Geppetto, the puppet single-mindedly journeys into the ocean and selflessly risks his life to save his father, thereby displaying that he deserves to be a real boy. Based on a series of stories by 19th century Italian author Carlo Collodi, Pinocchio came under fire for being a sugarcoated version of its original tale, but the film's moral did have a strong educational effect on children. Soon enough, a 16 mm excerpt from the picture, titled "Pinocchio: A Lesson in Honesty," was released for teachers to use in schools. ~ Aubry Anne D'Arminio, Rovi
News & Interviews for Pinocchio
Critic Reviews for Pinocchio
Audience Reviews for Pinocchio
½
Collodi's classic fairy tale is adapted into a spellbinding animation full of adventure and tension, notably scarier and more serious in tone than the usual Disney movies. A wonderful story that holds an important moral lesson for children about the dangers of the world.
Carlos Magalhães
Super Reviewer
Fantastical! Wonderful! Amazing! Mesmerizing! These words go above and beyond for this movie, and if I could say anymore, I would call it the best disney film of all time. There are a few films that I like to say I admire more, but I loved everything about "Pinocchio" and all the adventures that he goes on throughout the film. It's all about making your wishes come true by being a good person at heart, and it is one of the most influential films that I have ever seen! I could watch this film over and over again! My only complaint is that is can be a bit dark for children and there is some language and references that nudges at the PG rating, rather than having it's childish G. Overall, "Pinocchio" is a masterpiece of an animate film!
Pinocchio is a great film, but compared to other Disney classics, I never really re watched this one. I on the other hand really loved the film when I saw it when I was young. This film is a must see for everyone who loves a good animated film. The film, like with every other Disney film has great art, animation and a talented voice cast. Brilliantly drawn, Pinocchio will bring out the child in every viewer and is a must see for anyone who enjoys a touching story. I loved this one growing up, but unlike other Disney classics, I never really re watched this, but I can say without a doubt that this is a near flawless film, another great one for Disney and a definite must see for the entire family. Children will love this film one, and this is a film that adults will enjoy as well. That's the beauty part about Disney films, their ability to capture the imagination of people no matter what age you are. Pinocchio is a stunning film, one that remains a Disney classic along with Snow White, Bambi and others in the company's long standing history. A very enjoyable film, Pinocchio is a memorable film that will appeal to anyone looking for a great animated film. An enjoyable ride from beginning to end, this is among Disney's very best. Brilliantly drawn, and told, Pinocchio is a terrific film that has a great story, one that will appeal to every viewer.
Pinocchio Quotes
| | |
| --- | --- |
| Jiminy Cricket: | When You Wish Upon A Star. |
| | |
| --- | --- |
| Geppetto: | Say hello to Figaro |
| Geppetto: | Say hello to Figaro. |
| Pinocchio: | Hello to Figaro |
| Pinocchio: | Hello to Figaro. |
| | |
| --- | --- |
| The Blue Fairy: | A boy who won't be good might just as well be made of wood |
| The Blue Fairy: | A boy who won't be good might just as well be made of wood. |
| | |
| --- | --- |
| Jiminy Cricket: | Go Ahead. |
| Jiminy Cricket: | Go ahead. |