Pipe Dream
(2001)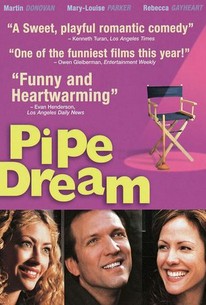 Movie Info
A plumber looking for love hopes to find romance by impersonating a movie director in this offbeat independent comedy. David Kulovic (Martin Donovan) is a single guy who doesn't have much luck impressing the ladies, a dilemma he attributes to the poor opinion most people have of his trade, plumbing. One day, David is mistaken for a well-known film director, and discovers people, especially women, seem a great deal more friendly toward him when they think he works in the movies. David's case of mistaken identity gives him a brainstorm, and with the help of his pal R.J. (Kevin Carroll), he decides to pass himself off as a struggling independent filmmaker, hoping to meet aspiring actresses at his bogus casting calls. Of course, a filmmaker needs a script, and David swipes one from one of his neighbors, Toni Edelman (Mary-Louise Parker, who is trying to get her own foot in the door of the film business). As it happens, Toni's screenplay happens to be quite good, and soon David's nonexistent project is developing a very real buzz in indie film circles. Seeing this as her big chance at a career in Hollywood, Toni begins coaching David in how to act like a filmmaker in the hopes they can actually get David's phantom picture off the ground. Writer and director John C. Walsh based Pipe Dream in part on his own experiences as he was making his first feature film, Ed's Next Move.
Critic Reviews for Pipe Dream
Audience Reviews for Pipe Dream
½
Nice little low budget movie about a plumber (Martin Donovan) who pretends to be a movie director to impress a girl (Rebecca Gayheart). His neighbour (Mary Louise Parker) has written a script, and it seems like this movie just may get made after all... I put off watching this one for ages. Have picked it up several times at the video store, (dating back probably to when it actually was on video. haha). Saw it going out as an ex-rental for $1.95, decided what the hell, how bad could it be compared to some of the stuff I have sat through lately?! It was actually pretty good! Nice little story and very well acted.
Nicki Marie
Super Reviewer
½
Pipe Dream is about a plumber making a movie. Well, it didn't start out that way - the plumber convinced the casting director to cast women for a fake movie so he could seduce girls. But somehow, "Pipe Dream" becomes a hot commodity with a financier falling over himself to fund it. Enter Mary-Louise Parker who plays the writer and helps the plumber direct. You have to see the movie for it to make sense, and see it you should.
There is very little going on in this quite mediocre movie.
Sunil Jawahir
Super Reviewer
Pipe Dream Quotes
There are no approved quotes yet for this movie.