Piranha Part Two: The Spawning
(1981)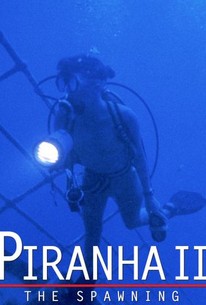 Piranha Part Two: The Spawning Photos
Movie Info
Flying and swimming mutant piranhas terrorize a tourist club, and a diving instructor and a biochemist team up to destroy them.
Critic Reviews for Piranha Part Two: The Spawning
Audience Reviews for Piranha Part Two: The Spawning
First of all, the title is misleading, since we only see the Piranha's for about 20 minutes in the entire film, and that is not even the worst part. The acting is atrocious, the writing is absolutely dreadful, and the story is pretty much the same thing, with a failed attempt at a climactic conclusion. "Piranha Part 2" is not only a poor film for what it is trying to be, but is comes off as one of the worst films I have ever seen. Sure the piranha's may have been improved a bit visually, but when you don't see them, and the film is this poorly scripted, and not to mention how bad the framing and cinematography is. This is one of the most poorly structured pieces of shit I have ever seen!
½
It's funny that even through Cameron only directed for 2 weeks, you can definitely see his fingers prints on several scenes and specifically the script. The script for this movie isn't half bad, it's just executed poorly. Overall I have to say it is the best flying piranha horror comedy out there.
Ken Stachnik
Super Reviewer
Gee Mr Cameron this film totally sucks ass!! totally hated every minute of this to be honest, its not scary, its not thrilling and its not interesting in the slightest, merely a cheap poor 'Jaws' rip off and unneeded sequel to a reasonable original 'Jaws' rip off hehe The only thing I can say is the makeup on the eaten victims is pretty good in places and of course Lance does his best to elevate the crapola plot from whatever the hell was suppose to be going on (beats me).
Phil Hubbs
Super Reviewer
Piranha Part Two: The Spawning Quotes
There are no approved quotes yet for this movie.