Piranha 3-D
(2010)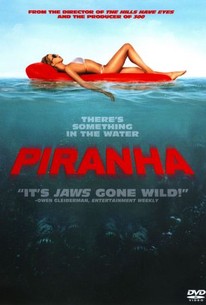 TOMATOMETER
AUDIENCE SCORE
Critic Consensus: Playing exactly to expectations for a movie about killer fish run amok, Piranha 3-D dishes out gore, guffaws and gratuitous nudity with equal glee.
Movie Info
After a sudden underwater tremor sets free scores of the prehistoric man-eating fish, an unlikely group of strangers must band together to stop themselves from becoming fish food for the area's new razor-toothed residents.
News & Interviews for Piranha 3-D
Critic Reviews for Piranha 3-D
Audience Reviews for Piranha 3-D
What's interesting about this film is that its aware that its bad, and from this, it mocks itself for being bad. It is from this that makes it a good film to laugh with and at. Featuring a nice cast, particularly Christopher Lloyd and Ving Rhames. The film's highlight of constant sexual content, is top off as it even features porn stars Kelly Brooks and Riley Steele. With the film's being so over the top with its constant, in your face gore, it never lets down with the violence and in fact is mostly humorous to many. Piranha 3D definitely isn't one of the greatest films out there, but since its aware that its awful and doesn't try to be serious, if you want something that's jam packed with violence, nudity and is great to laugh along with, maybe give this a shot.
Samuel Riley
Super Reviewer
½
Mr. Goodman: Piranha hunt in packs - not for protection, but for overwhelming force. They're organized, methodical. The first bite draws blood. The blood draws the pack.  "There's Something In The Water" After seeing Piranha twice now, I still believe to be a great addition to the creature feature genre. It works so well because it is played just right. It appeals to the fan base. It's blood, boobs, and humor. There's nothing scary about this movie, there's nothing great about this movie, and there's nothing overly special about it either. What it is though is a humorous, entertaining, and fun, brisk ride.  When an earthquake occurs under a small towns lake, it opens up a little pathway that allows a bunch of piranha's that were thought to have been extinct for millions of years to come up to the surface. It's perfect timing too because the small town is booming with thousands of college students in for spring break. The sheriff tries to get everyone out of the water, but the drunken college kids aren't going to listen to authority.  What I particularly liked about this movie was that it was presented in a quick way. It didn't overstay its welcome. Coming in at about an hour and twenty-five minutes, it's perfectly paced and perfectly timed. While, it's moving quickly, it pauses for many comedic sequences and for the most part they work. It's never hilarious, but it's often laugh out loud funny, like the last words from the porn director, "Wet t-shirt... wet t-shirt."  Piranha is a movie that has a select, target audience. It's stupid, it's bloody, and it's sexist. Breasts are running wild in this film. So I wouldn't argue with anyone who threw the movie aside as just another brainless, nudity filled creature feature, but you have to admit this is better than most. It's no Jaws or anything, but it's still an above average addition to a rather shitty sub-genre. 
Melvin White
Super Reviewer
Using the old clichéd horror formula of over sexed teenagers with excessive nudity, Alexandre Aja directs this remake of the classic Joe Dante film. This is yet another pretty bad remake that lacks anything remotely interesting, aside from breasts and bad CGI, this film has nothing to offer. Piranha 3-D simply isn't a horror film that you can sink your teeth into. While the original was a great low-budget rip-off of Jaws that was loads of fun, this one just goes for the gore and nudity factor. Although I really don't condone those aspects of a horror film, I wish there could have been a lot more substance to this film. Unfortunately there was not, this was a film that was void of a good story, a good cast and really good humor. I'll always prefer Joe Dante's classic film, and it didn't need a remake. Alexandre Aja is a good director and he proved that with his film Haute Tension, but now he seems only capable of remaking classics, and he just ruins it. I thought this film simply didn't deliver any good, I felt it was a bad film, one that didn't do the original justice. This film joins the ever growing list of bad horror remakes. Piranha 3D simply just didn't deliver. I didn't enjoy the film, and I felt it really didn't capture the essence of the original, which is something that nearly every remake seems to do. If you love Joe Dante's classic, then skip this one. The film simple doesn't deliver on anything good. The film had potential of being a good remake; unfortunately it fails to be a great and memorable viewing experience.
Piranha 3-D Quotes
| | |
| --- | --- |
| Deputy Fallon: | Chew on this motherfuckers! (starts killing the piranha with a boat motor) |
| | |
| --- | --- |
| Mr. Goodman: | This is no ordinary piranha! This species of piranha is two million years old! |
| | |
| --- | --- |
| Matt: | " He took my Penis!" |
| Matt: | They took my penis. |
| | |
| --- | --- |
| Novak: | There are thousands of them and they are pissed! |
| Novak: | There are thousands of them, and they are pissed! |