The Pirate
(1948)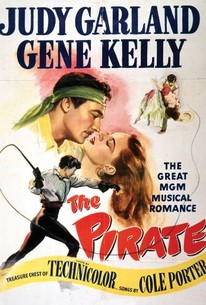 Movie Info
On a Caribbean isle in the early 19th century, sheltered young Manuela comes to believe that traveling troubadour Serafin is in reality "Mack the Black," a notorious pirate. Serafin realizes that the surest way to win Manuela's heart is to impersonate the romantic buccaneer, and this is what he does--nearly getting himself hanged in the process.
Critic Reviews for The Pirate
Audience Reviews for The Pirate
This is what a romanic comedy SHOULD be like. Not the crap they come out with these days...Sooo Funny. I actually dont like Gene Kelly as much as Fred Astaire. Ive always found Kelly to be more stuck-up. Fred Astaire seems to me more likable and humble. The kind of guy you could talk to without fealing intimidated. That said, I thought that this role was perfect for Kelly. He was pretty much playing himself. Brash, Snooty, a Ladies Man. And Judy Garland. She is soooo beautiful!!! She is really great to wat and makes this whole movie. Just her facial expretions and little things like tapping her fingers on the couch really do add to the reality of her character. Cole Porter so you cant go wrong. See it.
Morgan Salem
Super Reviewer
Not what I expected from the two leads. Depressed me a little but it was okay.
Leigh Ryan
Super Reviewer
The opening is a little excruciating, but it gets better toward the end. For some reason Gene Kelly decided to wear Pirate Hotpants during a dance sequence. How did anyone on the set keep a straight face?
Ken Stachnik
Super Reviewer
The Pirate Quotes
| | |
| --- | --- |
| Manuela: | Don't call me pure soul it irritates me |
| Manuela: | Don't call me pure soul it irritates me. |
| Manuela: | Don't call me pure soul, it irritates me! |