The Pirate Movie
(1982)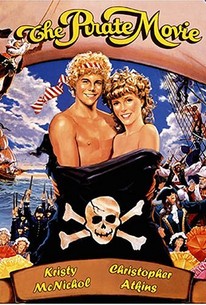 Movie Info
An introverted girl who yearns for popularity (Kristy McNichol) attends a pirate festival in her seaside community, featuring a swordplay demo led by a curly haired hunk (Christopher Atkins). After selecting Mabel (McNichol) to participate in the act, the instructor invites her aboard his boat for a real ride on the high seas -- at which point a gaggle of her catty acquaintances latches on for the trip. Sent to get hamburgers for the outing, Mabel is "accidentally" left behind when one of her "friends" pulls the anchor prematurely. Determined not only to fit in, but to track down her dream guy, Mabel steers a tiny sailboat into stormy waters in pursuit, and gets shipwrecked. Thus begins a fantasy in which the unconscious Mabel imagines herself in a real pirate adventure, complete with her dashing pirate hero, a legion of his crusty shipmates, and dozens of unwed sisters who must rise to the altar before she can. The fantasy mixes film parodies, love songs, animation, and the score of Gilbert & Sullivan's The Pirates of Penzance. The story also loosely follows the structure of said operetta. ~ Derek Armstrong, Rovi
Critic Reviews for The Pirate Movie
All Critics (11) | Fresh (1) | Rotten (10) | DVD (2)
lurches from almost-unwatchable to so-awful-it's-fascinating. Next to this, even such notorious '80s epics as 'Grease 2' and 'Xanadu' look like high-class affairs.
Atkins and McNichol are cute and engaging, but that's hardly enough to allow the viewer to overlook the various atrocities on display.
Audience Reviews for The Pirate Movie
½
A fun musical comedy based on a play, and it's also a teen movie, I really enjoyed it.
It surpasses Disney's Pirates of the Caribbean on the fun-scale! I'm fond of this great 80's teen pop movie with singing and dancing pirates, girls and policemen. It's cheesy, but good-spirited and fun. Favorite Scene: When Mabel (Kristy McNichol) demands that everybody have a "Happy Ending".
Lafe Fredbjornson
Super Reviewer
½
Pretty cute pirate of penzance comedy musical. The jokes are really bad and so is everything else, i don't even know if your kids will like this. Actually I don't know of anyone who would like this but I did watch it all and didn't complain so it can't be too bad.
Alexander Wilson
Super Reviewer
The Pirate Movie Quotes
There are no approved quotes yet for this movie.