Pirate Radio (The Boat That Rocked)
(2009)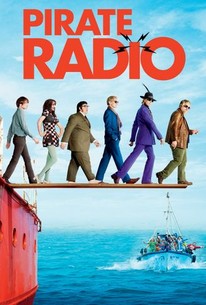 TOMATOMETER
AUDIENCE SCORE
Critic Consensus: The good cast and rollicking soundtrack eventually drown when this comic homage to pirate radio loses its quippy steam.
Pirate Radio (The Boat That Rocked) Photos
Movie Info
In mid- to late-'60s Britain, an unusual yet colorful subculture sprang up and thrived as a product of the upswing in British pop music, only to meet its doom within a few short years. Though the BBC functioned as the country's main source of news and music, its programmers offered very little airtime to rock & roll -- which left an overwhelming need unfulfilled. In response, small bands of "pirate" radio enthusiasts set up broadcasting towers on boats just outside of English boundary waters, and transmitted signals to an estimated 25 million listeners, 24 hours a day and seven days per week. Unsurprisingly, the DJs who took charge of these broadcasts could rival just about anyone in terms of flamboyance and outsized personalities. With Pirate Radio (released as The Boat That Rocked in the U.K.), writer-director Richard Curtis (Love Actually) travels back to the Swinging Sixties and takes a headfirst plunge into this colorful realm. The story opens in 1966, aboard a rusty fishing trawler christened Radio Rock and equipped with pirate broadcasting equipment. Here, the slightly daft elitist Quentin (Bill Nighy) presides over a motley crew of joint-toking, sex-hungry disc jockeys including Dave (Nick Frost), a heavyset boob who nevertheless considers himself a hot property with women and loves to chase skirts; "The Count" (Philip Seymour Hoffman), an American DJ who aspires to be the first person to drop an F-bomb over the British airwaves; the gloom-laden Irishman Simon (Chris O'Dowd); bonked-out hipster Thick Kevin (Tom Brooke); womanizer Mark (Tom Wisdom); Angus (Rhys Darby), a New Zealander whom nobody likes; and the only female member of the group, lesbian cook Felicity (Katherine Parkinson). These misfits pull off quite a show -- enough of one that they attain the status of national idols for the youth culture -- but the super-conservative government minister Dormandy (Kenneth Branagh) detests the whole business and will do almost anything in his power to shut them down.
News & Interviews for Pirate Radio (The Boat That Rocked)
Critic Reviews for Pirate Radio (The Boat That Rocked)
Audience Reviews for Pirate Radio (The Boat That Rocked)
I kinda see this as a companion piece to the earlier British comedy 'Still Crazy', or they could exist in same universe at least. As for the title I think the US version is much better really, the original UK title is a bit of a mouth full, mind you other Euro versions are quite radical also. In France its called 'Good Morning England' which is quite the rip-off frankly, in Germany its 'Radio Rock Revolution' and in Italy its 'I Love Radio Rock'. So all in all this movie has the most title changes ever it seems...all of which are actually better than the original UK one I think. The quaint little story here is straight forward, back in the 60's rock and pop was frowned upon by the stale old crusty stiff upper lipped British government. A government that is still clearly set in the 50's and wasn't ready or willing to accept the free flowing hippie movement and its drastic changes. During this time pirate radio stations were set up to play tunage that was considered not cricket, but to avoid British law these musical rebels set up shop in the North Sea away from land-set restrictions and out of reach. Although inspired by real pirate radio stations of the time this fictional story sees a group of ragtag DJ's on a rusty old trawler blasting the UK with dangerous rock n roll. At the same time the dastardly Kenneth Branagh and his sidekick are trying their upmost to shut them down. The plot is actually quite similar to 'Still Crazy' with the basic premise of a young man joining a group of older men to go on a wild immature adventure of sorts. In 'Still Crazy' a young man joins the band, here a young man joins the radio crew, both films focusing on all of the characters giving us multiple subplots. As you can imagine all of these little character driven stories revolve around the simple issues of sex, booze, relationships, having a good time and battling against the establishment. Each character has their own little quirk that is pretty predictable and highly cliched in a typically rude crass British kind of way, nothing wrong with that of course, you expect it right from the start but its seen in virtually every British comedy. Apparently you simply cannot make a British comedy without Bill Nighy and here he plays the same type of rigid character yet again. Rhys Ifans plays another slimy creepy generally unlikable character, Nick Frost plays...errr...the fat bloke...again, and then pad out the rest with various familiar faces which most Brits will recognise in some form or another but everyone else won't. The only real breath of fresh air in this cast is Hoffman as the rebellious brash US DJ which gives the film a sense of 'Good Morning Vietnam' vs traditional British toilet humour...at times. The establishment that is trying to ruin everyone's fun is played in its entirety by Kenneth Branagh, a strict headmaster-esque government minister who thinks rock n roll is corrupting young minds. His sidekick played by Jack Davenport is surprisingly not a half wit as you might expect but a clever devious subordinate who digs up legal loopholes. Together these two make a reasonably fun pair of bad guys (not really bad of course) and do offer most of the entertainment character wise. Sure it might have been cliched to make them a bumbling pair of Laurel and Hardy types but maybe that might have worked in the films favour? None the less Branagh plays the sniveling jobsworth suit to a tee with his grovelling to the Prime Minister. Alas they did let everything down by naming Davenport's character Twatt...a totally lame and unfunny gag that seems rather childish, they couldn't think of anything better than that?! By now I'm sure most of you must know what to expect with a comedy like this, all the usual Brit gags visual or otherwise, like I said its the same spiel in all UK comedy flicks (with almost the same cast). Being based on pirate radio of course this means the sexual innuendo gags are through the roof! add to that lots of frat house-like tomfoolery, soppy lovin' and a brief spot of nudity. What can I say, its silly and infantile but its still a good, warm-hearted relaxing flick with a solid soundtrack and a surprisingly semi-emotional finale. Its just not as funny as you'd like it to be.
Phil Hubbs
Super Reviewer
½
Dispite a screenplay full of flaws, The Boat That Rocked, bring a great soundtrack and comic cast.
Lucas Martins
Super Reviewer
½
Add this too the long list of films that endeavor mightily to capture the soul of rock and roll only to prostitute the admittedly bad old girl shamelessly. Cue the classics of yore, present cast et al "grooving to the beat", and cut to credits. Better to light one up, reheat the lava lamp and put on some Floyd.
Kevin M. Williams
Super Reviewer
Pirate Radio (The Boat That Rocked) Quotes
| | |
| --- | --- |
| Quentin: | Believe me, they'll find a way. Governments loathe people being free. |
| | |
| --- | --- |
| Minister Dormandy: | You see, that's the whole point of being the government. If you don't like something you simply make up a new law that makes it illegal. |
| | |
| --- | --- |
| Dave: | So tell us Mark, now at the very end - what was your secret? How did you get all them girls? |
| Mark: | Simple. Don't say anything at all. |
| Carl: | Nothing? |
| Mark: | Nothing. Then, when the tension becomes too much to bear, you finally, finally, you just say: "How about it, then?" |
| Mark: | Nothing. Then, when the tension becomes too much to bear, you finally, finally, you just say: 'How about it, then?' |