Pirates of Silicon Valley
(1999)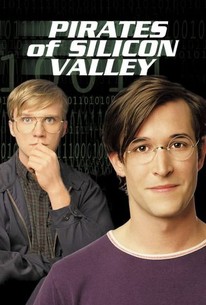 Pirates of Silicon Valley Photos
Movie Info
This tech-world biopic traces the fortunes of personal-computer companies Apple and Microsoft from their obscure dorm-room and backyard origins to their very public battle for corporate supremacy. Writer/director Martyn Burke follows the parallel lives of Microsoft founder Bill Gates (Anthony Michael Hall) and Apple co-founders Steve Jobs (Noah Wyle) and Steve Wozniak (Joey Slotnick) -- the former a crafty Harvard dropout, the latter a pair of hippies with jobs at Hewlett-Packard and a yen to sell miniature versions of corporate mainframes to small businesses and at-home enthusiasts. Much like the personal-computer industry itself, the action starts with Apple then gradually shifts to Microsoft. The former plot thread recounts how Jobs and Wozniak "borrowed" key concepts from a Xerox computer lab, eked out their success as countercultural businessmen, and finally fell out with one another over the pressure of success. The latter thread focuses on the way Gates learned from, then surpassed, the brains behind Apple and turned his company into the global powerhouse that it is today. Based on Paul Freiberger and Michael Swaine's Fire in the Valley: The Making of the Personal Computer, the film actually focuses only on that book's final chapters. Produced for cable channel TNT, Pirates of Silicon Valley debuted June 18, 1999.
News & Interviews for Pirates of Silicon Valley
Critic Reviews for Pirates of Silicon Valley
Audience Reviews for Pirates of Silicon Valley
Kyle Meisch
Super Reviewer
MisterYoda ?
Super Reviewer
I enjoyed the performances by the two main actors but the fake documentary left a little to be desired. I would have liked a more straight forward telling of the story in the traditional movie of the week way. It did show me that both these guys are a little nuts. I guess that's what it takes to make the millions... a weak grasp of reality.
Jason Spencer
Super Reviewer
Pirates of Silicon Valley Quotes
There are no approved quotes yet for this movie.