Pirates of the Caribbean: Dead Man's Chest
(2006)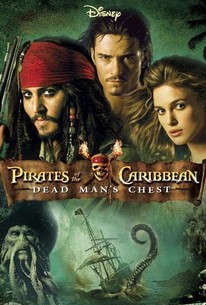 Pirates of the Caribbean: Dead Man's Chest Videos
Pirates of the Caribbean: Dead Man's Chest Photos
Movie Info
Captain Jack Sparrow is caught up in another tangled web of supernatural intrigue. Although the curse of the Black Pearl has been lifted, an even more terrifying threat looms over its captain and scurvy crew: it turns out that Jack owes a blood debt to the legendary Davy Jones, Ruler of the Ocean Depths, who captains the ghostly Flying Dutchman, which no other ship can match in speed and stealth. Unless the ever-crafty Jack figures a cunning way out of this Faustian pact, he will be cursed to an afterlife of eternal servitude and damnation in the service of Jones. This startling development interrupts the wedding plans of Will Turner and Elizabeth Swann, who once again find themselves thrust into Jack's misadventures, leading to escalating confrontations with sea monsters, very unfriendly islanders, flamboyant soothsayer Tia Dalma and even the mysterious appearance of Will's long-lost father, Bootstrap Bill. Meanwhile, ruthless pirate hunter Lord Cutler Beckett of the East India Trading Company sets his sights on retrieving the fabled "Dead Man's Chest." According to legend, whoever possesses the Dead Man's Chest gains control of Davy Jones, and Beckett intends to use this awesome power to destroy every last Pirate of the Caribbean once and for all. For times are changing on the high seas, with businessmen and bureaucrats becoming the true pirates--and freewheeling, fun-loving buccaneers like Jack and his crew threatened with extinction.
News & Interviews for Pirates of the Caribbean: Dead Man's Chest
Critic Reviews for Pirates of the Caribbean: Dead Man's Chest
Audience Reviews for Pirates of the Caribbean: Dead Man's Chest
'Fifteen men on the Dead Man's Chest Yo-ho-ho, and a bottle of rum! Drink and the devil had done for the rest Yo-ho-ho, and a bottle of rum!' Who'd of thought a movie based on a theme park and pirates would be so successful that it would garner a sequel. A sequel that was so so so utterly huge in production values it makes perfect sense that it would fail to live up to its predecessor. The old lesson Hollywood never learns, making things bigger and flashier doesn't always mean it will be better. The plot? oh geez where to begin. This is the main issue with this franchise which begun in this sequel, only to get worse in the third film. The story becomes so convoluted and twisty its hard to keep up, and this is a Disney film! Put very simply...most of the characters are all after various bit n pieces including Davy Jones heart, Sparrow's compass and the Black Pearl. Each character has their own reason for needing each item and most of these reasons intertwine with each other at some point, oh and old characters come back into the fray. The plot is the first film was pretty straight forward, I'm not saying simple is best but it was easy to swallow. This film kicks off relatively well with the characters we know in trouble for helping Sparrow, a deal is set, a plan underway and everybody knows who is doing what and why. The trouble is as the film progresses sub plots pop up, new characters enter with their own story arcs, old characters come back with more story arcs, plans change and double crossing ensues. I can't deny it becomes tricky but in the end it is decipherable and when you think about it its quite good. So once you've got your head around the plot you do tend to notice how big everything has become. The prison Sparrow escapes from at the start looks very similar to some kind of fortress you'd expect to see in a Tolkien story. The entire early cannibal infested island part of the film really does show how the franchise took a swing for the worst. Sparrow, Norrington and Turner break out into a three way fight over Jones chest which lasts for at least 10-15 minutes, displays way way too much slapstick, completely unbelievable cartoon stunts that detach you from the film and the trio end up covering half the island whilst battling! In short the whole sequence wasn't needed, it was completely overblown and merely flashy filler, it bared no importance to the plot whatsoever...and this is what you will come to expect from the franchise thereafter. Now of course we know this franchise is a comedy of sorts, a period set comedy action thriller for everyone to enjoy. The first film had a nice balance of that plus some supernatural fantasy that really worked well. This sequel added that horrendous cartoonish hijinx that totally tore you away from any suspension of disbelief because it went beyond that into a pure hokey farce. On top of the ludicrous tomfoolery now on show this film has easily had much more creative influence from the classic videogame The Secret of Monkey Island. If you know the game its quite plain to see really, the cannibal island at the start, the murky, misty, swampy location where the team meet voodoo priestess Tia Dalma and of course that character in her entirety, plus the similarity Jones has to LeChuck in terms of evil behaviour, the supernatural and looks. It is a shame because the film is a good fantasy with some gorgeous visuals both CGI and real time. Davy Jones and his crew are incredible, a real sight to behold, especially Jones squid-like face of course. Its amazing to actually see CGI that looks so good you think its a real makeup job. The other crew members are also so vividly imaginative and well crafted, every scene with these fishy dogs was really great fun, I was always looking out for different types of mutants in the background. I really liked their vessel the Dutchman and the war torn barnacle covered ghost ship appearance it was given (much like the Pearl and its ghostly shrouds of mist n fog), and of course the Kraken was a fun nautical myth to include if somewhat unoriginal and not too good on the CGI front. Its still a fun film which is saved by the British actors and their astoundingly fun well spoken pomposity, that and the excellent effects on Jones and his (undead?) crew. The finale for Sparrow is an exciting cliffhanger even though you know he will be back. Its interesting to see a group of heroes bickering and double crossing each other instead of simply fighting together as one unbeatable team, and that supernatural spice is just right. The plot difficulties do mire proceedings but Verbinski just about pulls it off and manages to provide decent escapism.
Phil Hubbs
Super Reviewer
½
Aside from sequels in the biggest franchises of all time, like Lord of the Rings or Harry Potter, it's very rare that a second instalment tops what the original film was able to accomplish. When Pirates of the Caribbean: The Curse of the Black Pearl hit theatres, people around the world fell in love with these characters. While these films are no masterpieces, they are pure entertainment from start to finish. Upon its initial release, Pirates of the Caribbean: Dead Man's Chest was actually my favourite of the franchise, but upon revisiting it through the years, that mantle has worked its way back to the original feature. This is a solid follow-up to a very fun first film, but its incredibly overlong and tiresome nature do take their toll. Many viewers choose to dislike every sequel this franchise has released, but I'm about to defend this one, because I think there is quite a bit of fun to be had here. Unlike the first, this film juggles too many plot elements, which may make audience members grow weary of the overall film. Playing as a sort of cat-and-mouse game as the heart of Davy Jones is the so-called "mcguffin" here. Every character has their own agenda as to why they must acquire it and the tiring subplots really bog the film down at times. Quite honestly, this film could have used a bit of trimming down. There are so many exciting action sequences to enjoy throughout this film (quite memorable to be honest), but they are very spread out over the 150 minute run time. For this reason, this second instalment fails to shine all the way through. Whenever a film brings in a slew of new faces to enjoy, a film usually benefits from world building. With the few exceptions of certain films bringing in useless characters, the majority of the time will see beneficial additions. I found myself really intrigued by the character of Davy Jones, and the subplot of Will Turner coming across his father was easily the most heart given to this film. When you send characters on a fantastical adventure like this, there needs to be a sense of realism in the smaller moments, otherwise why should anyone care what happens to them in the end. This is a sequel that takes its time to develop the necessary characters in order to have a nice payoff in the end. The swash-buckling of the original film was fun and tasteful, but this instalment definitely cranks up the silliness of the action. From sword-fighting on top of a moving wheel, to pole-vaulting over a cliff while tied up, to attacking a giant squid monster, Pirates of the Caribbean: Dead Man's Chest is never afraid to go all out with its fantasy elements. For its time, the effects were actually quite good, but the budgets for these films are incredibly high, so that makes sense. If you haven't yet checked this film out, I will be recommending it, but just know that it becomes extremely silly and the stakes are thrown out the window quite often. As a sequel that's over 10 years old, it holds up quite well in my opinion. Looking back, Pirates of the Caribbean: Dead Man's Chest was definitely meant for its time. Sure, the adventure aspects of all these films will live on forever, because everyone loves a good adventure. The jokes throughout these films will date eventually, but that happens with every film. Aside from bringing in new characters, some cool new set pieces, and a promise of much more to come, there isn't much new to like here. If you loved the first first film for what it was, you'll have some fun with this one too. I personally think this film receives a little too much hate and was a worthy sequel upon release. Fairly slow at times, but that's always made up with awesome action and adventure. If you haven't checked out this franchise or just haven't gone past the original, I believe this one is still worth a watch. Still to this day, I quite enjoy this sequel.
½
Gore Verbinski takes his adventurous swashbuckler into darker tides with Dead Man's Chest. The film is visually captivating but does falter on its loosely-incoherent storyline. Johnny Depp doesn't fail as usual with his rendition of Captain Jack. The second film of the Pirates' saga is dark, long and out of control. 3.5/5
Eugene Bernabe
Super Reviewer
Pirates of the Caribbean: Dead Man's Chest Quotes
| | |
| --- | --- |
| Jack Sparrow: | Me, I'm dishonest, and you can always trust a dishonest man to be dishonest. Honestly, it's the honest ones you want to watch out for, 'cause you can never predict if they're going to do something incredibly stupid. |
| | |
| --- | --- |
| Jack Sparrow: | We're not free yet, love. |
| | |
| --- | --- |
| Cutler Beckett: | No doubt you've discovered that loyalty is no longer the currency of the realm, as your father believes. |
| Elizabeth Swann: | And what is? |
| Cutler Beckett: | I'm afraid currency is the currency of the realm. |
| Elizabeth Swann: | Then perhaps we can come to some sort of understanding. I'm here to negotiate. |
| Cutler Beckett: | I'm listening. [Held at gunpoint]... I am listening intently. |
| | |
| --- | --- |
| Jack Sparrow: | No, no! More wood! Big fire! I am chief! Want big fire! |