Pirates of the Caribbean: Dead Men Tell No Tales
(2017)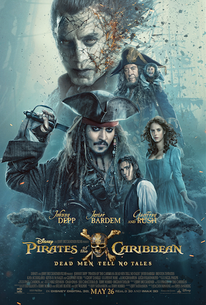 TOMATOMETER
AUDIENCE SCORE
Critic Consensus: Pirates of the Caribbean: Dead Men Tell No Tales proves that neither a change in directors nor an undead Javier Bardem is enough to drain this sinking franchise's murky bilge.
Pirates of the Caribbean: Dead Men Tell No Tales Videos
Pirates of the Caribbean: Dead Men Tell No Tales Photos
Movie Info
Johnny Depp returns to the big screen as the iconic, swashbuckling anti-hero Jack Sparrow in the all-new "Pirates of the Caribbean: Dead Men Tell No Tales." The rip-roaring adventure finds down-on-his-luck Captain Jack feeling the winds of ill-fortune blowing strongly his way when deadly ghost sailors, led by the terrifying Captain Salazar (Javier Bardem), escape from the Devil's Triangle bent on killing every pirate at sea-notably Jack. Jack's only hope of survival lies in the legendary Trident of Poseidon, but to find it he must forge an uneasy alliance with Carina Smyth (Kaya Scodelario), a brilliant and beautiful astronomer, and Henry (Brenton Thwaites), a headstrong young sailor in the Royal Navy. At the helm of the Dying Gull, his pitifully small and shabby ship, Captain Jack seeks not only to reverse his recent spate of ill fortune, but to save his very life from the most formidable and malicious foe he has ever faced.
News & Interviews for Pirates of the Caribbean: Dead Men Tell No Tales
Critic Reviews for Pirates of the Caribbean: Dead Men Tell No Tales
Audience Reviews for Pirates of the Caribbean: Dead Men Tell No Tales
The franchise is mostly just quoting itself at this point, trying to find new ludicrous action sequences (the guillotine one is great), MacGuffins to chase and weird undead conditions for the bad guys. That's entertaining enough and wraps up the series rather nicely in its final scenes, but was it really necessary? Probably not.
Or as its known in Europe 'Pirates of the Caribbean: Salazar's Revenge'. Why? I have no idea nor do I particularly care. Which I might add is pretty much how I felt about this movie and this franchise. We're five movies in now and this whole thing is just becoming monotonous and very familiar. The problem is I can't not watch it because I'm somewhat invested in the series; its like I have to watch to simply find out how this shitshow will end. Essentially its the same scenario as the Star Wars prequels, you knew they were poor, but you had to watch them all to see how it all tied up. You just had to!! So what the hell is going on in Pirateworld this time? Well its basically a soft reboot of the very first movie. The ghostly crew of the [i]Silent Mary[/i], under Captain Salazar, are after Captain Jack Sparrow because of the fact Sparrow landed Salazar and his crew in the devil's triangle which cursed them all (many many years prior). So yes yet again Sparrow is being pursued by undead pirates. At the same time a young Henry Turner (son of Will Turner) is trying to free his father from the [i]Flying Dutchman[/i] by locating the Trident of Poseidon. The trident can break all curses upon the sea. Conveniently, at the same time Henry bumps into the young and beautiful Carina (a Horologist and astronomer) who can help him find the trident (and lead into a very convenient romance). Conveniently Captain Barbossa pops up again who initially sides with Salazar to avoid being killed, but then sides with Sparrow later on to get his hands on the [i]Black Pearl[/i]. He then conveniently double crosses Sparrow to take the Pearl and conveniently discovers Carina is his long lost daughter, because of course she is. In the end they all conveniently team up together to defeat Salazar in a highly predictable manner. The infamous Jack Sparrow is pretty fleeting in this movie it must be said. Apparently director Joachim Rønning wanted to go back to the original concept where Sparrow crashes in and out of scenes as comedic relief. Well they certainly fudged that up because Depp's iconic character is pretty much useless in this movie and could of easily been cut out completely. His character has no story here, he literally pops up here and there for some slapstick. He's just tagging along for the ride, the other characters actually have goals where as Sparrow merely gets in the way. His only hook is that he lost his crew after they lost confidence in him, so he's a bit depressed basically. This is why he accidentally unleashes Salazar from the devil's triangle (by giving up his compass for a drink; something that escapes me because you probably gotta recall the last movie). I understand what Rønning was trying to do but here's the thing, in the original movie Sparrow was a bright new character. The character took [b]everyone[/b] by surprise with his antics. This type of old fashioned visual humour was a real breath of fresh air; but now the character is a has-been, old hat, nothing left, milked dry. Jack Sparrow's run is essentially over and this merely proved it. Naturally this franchise is now all about the spectacular visual effects and stunts and naturally this movie does maintain that. The movie is chock-a-block with CGI visuals as you would expect, some good, some not so much. I think we can all agree that landscapes and vistas work best for CGI shots. An attack of undead cursed sharks might sound like a cool idea but its also an example of how some CGI sequences looked utter crap. Strangely enough despite the fact the movie is stunning to look at, its nowhere near as good as the previous movies, it didn't feel as grand or lavish to me. There was also quite a lot of bad looking greenscreen shots too. But the real guff came in sequences and ideas that either didn't make any sense or just went nowhere. At the start of the movie a very young Henry rows out into the middle of the ocean and throws himself over-board tied to a large rock. He then proceeds to sink to the exact spot where the Flying Dutchman is sunk, or waiting? I dunno exactly. Sure the kid had a map but really? The British Navy (that are briefly seen here and there) don't believe in all the supernatural stories they've heard. Again really?? With everything that happens at sea in your world?? You'd think this shit would be common knowledge. Sparrow and his men attempt to rob a bank by pulling its enormous steel safe out of the building (through a wall) by horsepower...yeeeah that's really stupid on so many levels. At one point the movie literally stops dead just so Sparrow can talk quickly to his uncle Jack. Yep the movie stops dead in its tracks to simply give Paul McCartney a pointless cameo. The guards carrying Jack just haul him over to the cell holding his uncle so they can chat. Why would they do this?? Oh yeah...Paul's cameo. At another point Sparrow is captured by some Irish (?) pirates who want to force him to marry one of their own as payment for a debt or whatever. Clearly there is backstory here but we don't find out what. Then Barbossa turns up and kills the Irish leader and that's that, on with the show. Salazar's ship is just a bare skeleton of the hull or rotting wreck, but somehow it eats other ships or something. This also causes other ships to explode for some reason...eh?? Then in the finale the ocean parts (yes parts) for the characters to find the trident, this is quite a quick process. Yet when the movie reaches its climax and the ocean starts to fall back in on itself, this takes [b]AGES!!![/b]. In fact it takes just enough time for the main protagonists to be rescued. I might add that this entire sequence on the ocean floor with the CGI parted ocean, looks terrible. Then right at the end (God knows where) various characters from the previous movies just all turn up randomly, outta nowhere, conveniently at the exact same spot for a soppy reunion. This led me to simply ask...how on earth is this actually happening? Its like Rønning just said, fuck it! we'll just toss in these characters because we can, no one will question it because its a silly fantasy. Are you even trying anymore with this movie/franchise? The real problem for this movie I fear is the fact that you gotta remember everything that's happened previously, to some degree. Don't get me wrong, its cool that the continuity is well maintained but with the number of movies in this franchise and their convoluted plots, its more like actual work than anything to keep up. Next to that the action felt very poorly choreographed and edited this time round. Just not exciting really, just mundane and unimaginative. There are way too many characters now, its really ridiculous actually. To top that it seems like they're bringing back yet another character from a previous sequel for the next movie (ugh!!!). As said the movie looks glossy but its by far the worst looking of the franchise. And last but not least, the movie is simply a rehash of the original. We've seen this before and its slowly happening more and more it seems, its just not acceptable. Folks at the end of the day if you're a fan of the franchise you will probably like this; although I'm very sure you may not rate it highly. If you're not a fan of the franchise or a casual movie goer, I'd say skip it because you've seen it all before I guarantee. Its not really a good stand alone movie. This franchise has officially capsized and sunk.
Phil Hubbs
Super Reviewer
Simply a rollicking good time at the flickers, old chum, and while disparaged on by many film snobby-ists (but then adventure films usually are looked down on), its my opinion that the Mouse et al outdid themselves with this one. This should've been the first in the series. Big fun.
Kevin M. Williams
Super Reviewer
Pirates of the Caribbean: Dead Men Tell No Tales Quotes
There are no approved quotes yet for this movie.